Looks like Posh needed a cozy outfit after the seemingly uncomfortable dress she wore to Tom and Katie's wedding. While Victoria was wowing wedding guests with her designer wear, David was on the sidelines - in Spain. It seems like being a superstar soccer player isn't all it's cracked up to be. Especially when it doesn't even give you the clout that you need to go to the biggest wedding of the year. Here's more: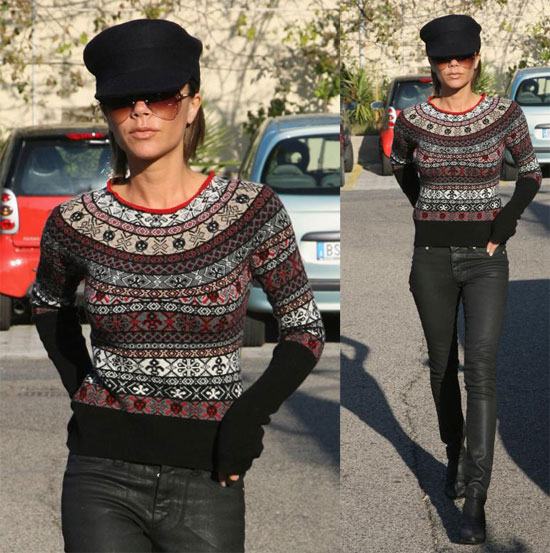 The soccer star-pop idol wanted to stay in Rome for an extra day to watch Tom Cruise and Katie Holmes tie the knot, but Real Madrid didn't like that idea.

The Spanish team allowed Beckham to travel to Italy to visit the Hollywood couple Friday. Then the club wanted the injured midfielder back in Spain to sit in the stands for Saturday's game against Racing Santander.

Real Madrid 1, Beckham 0.

"He's injured," Madrid coach Fabio Capello said. "He hasn't recovered and he has to train."

Beckham has been training plenty, including Monday, but he has started only three times this season for Madrid. The injury to his left knee also will force him to miss Madrid's Champions League match against Lyon on Tuesday.
It's too bad that he didn't get to go especially since he didn't get to play either. Posh seemed to handle the affair just fine without him. For more pics of Victoria relaxing after the bash just read more