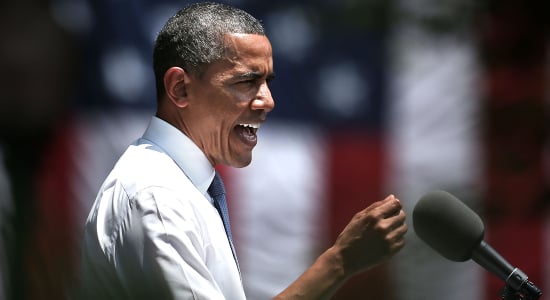 Today, President Obama spoke about his administration's new Climate Action Plan at Georgetown University in Washington DC. Environmental issues have been a hot topic since he first took office, and pressure has mounted in the past year with devastating storms like Hurricane Sandy. In January, he addressed the issue of climate change in his inaugural address, saying, "We, the people, still believe that our obligations as Americans are not just to ourselves, but to all posterity. We will respond to the threat of climate change, knowing that the failure to do so would betray our children and future generations . . . The path towards sustainable energy sources will be long and sometimes difficult. But America cannot resist this transition, we must lead it." Obama elaborated on his plan of action today, mentioning measures related to power plant emissions, appliance efficiency standards, and renewable energy. Keep reading for the must-know details from Obama's climate change speech:
He wants people to acknowledge the issue. Obama cited a statistic that says the 12 warmest years in recorded history all fall within the last 15, addressing climate change deniers with a dose of sarcasm: "We don't have time for a meeting of the Flat Earth Society." He insisted that now is the time to act, referencing Hurricane Sandy and the high costs people face when they're forced to rebuild.
He plans to crack down on power plants and focus on clean energy. During his speech, Obama said that he'll reduce domestic coal use by directing the Environmental Protection Agency to end the "limitless dumping" of carbon emissions from power plants. He also plans to continue investing in wind and solar energy.
He addressed the Keystone XL pipeline. First proposed in 2008, the buzzed-about Keystone XL pipeline extension has been a controversial topic, with environmentalists worrying about possible oil spills and higher greenhouse gas emissions. Today, Obama said that he'll only support the project if it doesn't exacerbate the problem of carbon pollution.
He touched on the economic impact. Some naysayers believe Obama's plan of action will negatively affect the economy, and that's sure to be a point of debate as people look into the plan. The president shared his thoughts on the economic impact in his speech today, saying, "There is no contradiction between a sound environment and strong economic growth."
He has the support of a former president. In a statement, Bill Clinton backed President Obama's plan for climate change, saying, "The President's announcement today to cut carbon pollution is good news for our planet and for our children's future; it's also good economics for American businesses and workers. . . . At heart these are sensible and timely approaches to fighting climate change that will strengthen our economy and maintain American leadership for a more sustainable future."