President Barack Obama on Egypt Crisis
What's Happening in Egypt? Obama Explains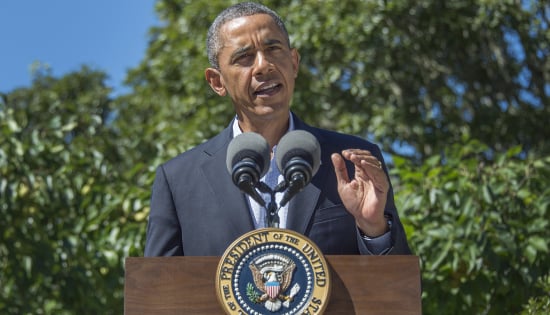 Turn on the news or head to Twitter, and you'll see that #Egypt is a trending topic thanks to the ever-growing and ever-complicated crisis. Today, the leader of Egypt's Muslim Brotherhood was arrested by the military authorities, and last week, violence erupted in downtown Cairo when Egyptian security forces tried to break up two groups of sit-in protestors who supported ousted President Mohamed Morsi. The protestors fought back, resulting in a violent clash that left more than 500 dead and several civilians shot.
On Aug. 15, following the increasing bloodshed, President Barack Obama stepped away from his vacation to clarify the situation and America's involvement, and his speech really shed light on several questions that have popped up surrounding America's role. So to catch you up on the precarious moment in history, let's have the professor-turned-president school us on the facts.
We're breaking out some of the key points in an imagined Q&A with Obama, using quotes from his speech to provide the answers:
So, Mr. President, what exactly is happening in Egypt?
"While Mohamed Morsi was elected president in a democratic election, his government was not inclusive and did not respect the views of all Egyptians. We know that many Egyptians, millions of Egyptians, perhaps even a majority of Egyptians were calling for a change in course."
How did that work out?
"While we do not believe that force is the way to resolve political differences, after the military's intervention several weeks ago, there remained a chance for reconciliation and an opportunity to pursue a democratic path. Instead, we've seen a more dangerous path taken, through arbitrary arrests, a broad crackdown on Mr. Morsi's associations and supporters and now, tragically, violence that's taken the lives of hundreds of people and wounded thousands more."
What is America going to do about the violence?
"The United States strongly condemns the steps that have been taken by Egypt's interim government and security forces. We deplore violence against civilians. We support universal rights essential to human dignity, including the right to peaceful protest . . . And today the United States extends its condolences to the families or those who were killed and those who were wounded."
Safe to say "it's complicated" now between the US and Egypt's interim government?
"While we want to sustain our relationship with Egypt, our traditional cooperation cannot continue as usual when civilians are being killed in the streets, and rights are being rolled back."
OK, well is the US going to do more than just condemn the violence?
"This morning we notified the Egyptian government that we are canceling our biannual joint military exercise, which was scheduled for next month."
Anything else? Keep reading for the answer and more!
"We believe that the state of emergency should be lifted, that a process of national reconciliation should begin, that all parties need to have a voice in Egypt's future, that the rights of women and religious minorities should be respected, and that commitments must be kept to pursue transparent reforms to the constitution and democratic elections of a parliament and a president."
Real talk, though — how can the US help fix the situation?
"America cannot determine the future of Egypt. That's a task for the Egyptian people. We don't take sides with any particular party or political figure. I know it's tempting inside of Egypt to blame the United States or the West or some other outside actor for what's gone wrong."
Wait, who's blaming America?
"We've been blamed by supporters of Morsi; we've been blamed by the other side as if we are supporters of Morsi. That kind of approach will do nothing to help Egyptians achieve the future that they deserve. We want Egypt to succeed. We want a peaceful, democratic, prosperous Egypt. That's our interest. But to achieve that, the Egyptians are going to have to do the work."
Bottom line?
"America will work with all those in Egypt and around the world who support a future of stability that rests on a foundation of justice and peace and dignity."
Watch Obama's speech in its entirety below.