Presidential Debate Live Show
Watch Our Presidential Debate Preshow and Postshow LIVE on PopSugar!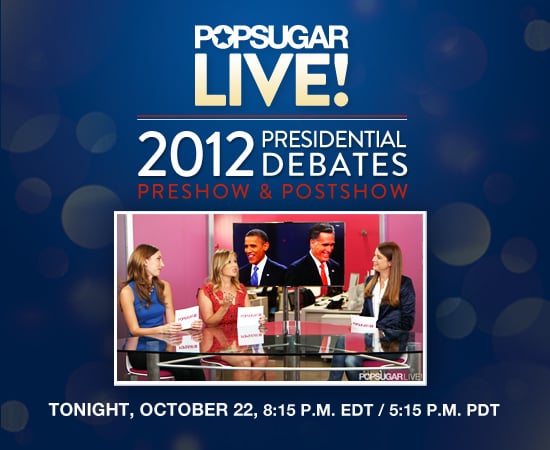 Join us this evening for the final presidential debate of the 2012 election season! The whole country will be watching as Barack Obama and Mitt Romney face off in the town hall format in Boca Raton, FL. With so many issues important to women like ourselves at the forefront, we want to stay informed and have a conversation with all of you about what's on your mind this election season. Come watch as PopSugar's Molly Goodson and Becca Frucht chat with TrèsSugar's Annie Scudder about everything you need to know before and after the debate.
We're teaming up with our friends at UStream to bring you a LIVE preshow before the debate, giving you all the facts, letting you know what to expect, and getting you ready to watch. Then, after the debate, we'll be LIVE again to break down all the biggest and most buzzed-about moments. Join in the conversation here on PopSugar.com at 8:15 p.m. EDT/5:15 p.m. PDT and again at 10:30 p.m. EDT/7:30 p.m. PDT!