Presidential Pride Abounds at Huffington Inauguration Party
The Huffington Post threw a pre-Inaugural Ball in DC last night to celebrate today's momentous occasion and find an excuse for another star-studded party. Arianna herself took the stage with will.i.am, and clearly the mood was joyful for the soiree. Demi and Ashton are still going strong after a long weekend of partying. Jessica Alba kept it festive with her blazer and Cash by her side. Pete Wentz didn't have Ashlee and Bronx with him but he is looking forward to telling him about it someday. After the Kids Inauguration Concert, the Jonas Brothers and Demi Lovato party-hopped their way to the HuffPost bash, and while they're too young to vote at this point, they'll have the memories of participating in this event forever.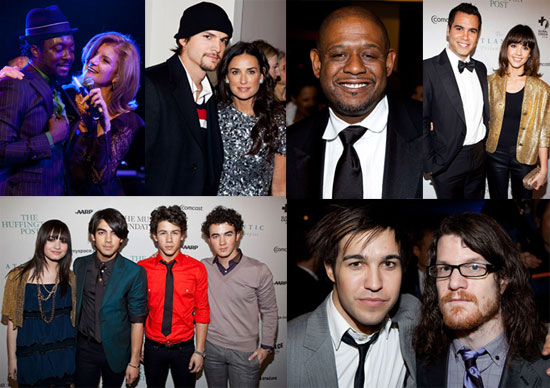 To see more from the party including David Arquette, Dustin Hoffman, Ed Harris, the Jonas Brothers, and more, just read more.
Images include: Arianna Huffington, Ashton Kutcher, Cash Warren, David Arquette, David E Kelley, Demi Lovato, Demi Moore, Diane von Furstenberg, Dustin Hoffman, Ed Harris, Forest Whitaker, Gavin Newsom, Gerard Butler, Isaiah Washington, Jessica Alba, Joe Jonas, Josh Groban, Judith Light, Kerry Washington, Kevin Jonas, Marisa Tomei, Nick Jonas, Pete Wentz, Robert De Niro, Sarah Silverman, Shakira, Sting, Teri Hatcher, Trudie Styler, Val Kilmer, will.i.am