Prince George's Christening Facts
Prince George's Christening: An Expert Fills Us In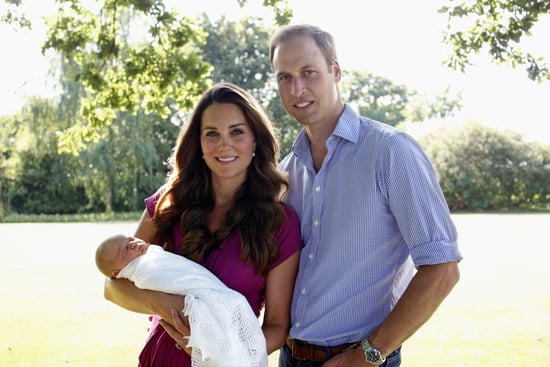 Update: Prince George has been christened! See the photos and find out which predictions our expert got right — and what was a surprise!
Prince George will be christened by the Archbishop of Canterbury in St. James's Palace's Chapel Royal tomorrow at 3 p.m. London time. This religious rite of passage will be an intimate affair, but royal watchers will be waiting for a glimpse of the newest royal in his christening gown, a replica of the lace and satin one made for Queen Victoria's daughter Victoria. For many of us American Yankees who enjoy marveling at Kate's postbaby style and grace, the details of royal life both fascinate and mystify us. So we got in touch with anglophile and author Jerramy Fine, an American expat who lives in London with her British husband. Below, the royal expert walks us through what we need to know about Georgie's big day.
POPSUGAR: How do royals choose godparents?
Jerramy Fine: Just like their wedding guests, Kate and William have the final say when it comes to the godparents of Prince George. Although Kate and William have released very little information to the media, insisting that the event is an entirely private affair unrelated to their public roles, it is likely that the godparents will be the couple's most loyal friends. This is a huge break with tradition as historically an heir's godparents are made up of foreign dignitaries and titled aristocrats.
PS: Who will they be?
JF: With the exception of Prince Harry, none of the predicted godparents are peers of the realm. Rather they are expected to include the nightclub owner Guy Pelly; Kate's old school friends Alicia Fox-Pitt Nice [pictured below on her wedding day] and Emilia d'Erlanger; Kate and William's college roommate Fergus Boyd [seen below with Kate during that infamous college fashion show], who knew the couple when their friendship blossomed into romance; William's school friends James Meade and Thomas Van Straubenzee, who delivered a joint best man speech after his wedding; and possibly Hugh Van Cutsem, whose daughter was one of their bridesmaids.
Find out more about the godparents and guest list when you keep reading.
PS: So it's not typical to ask friends to be godparents?
JF: To put things in perspective, William's godparents include King Constantine of Greece; Princess Alexandra, granddaughter of King George V; and the duchess of Westminster. The godparents of Prince Charles include the King of Norway, Princess Margaret and Prince George of Greece and Denmark, among others.
PS: How many people will be at the christening?
JF: The christening guest list is said to be capped at 60. Considering that Kate and William had nearly 1,900 guests at their wedding — you can understand why they want to keep the christening intimate!
PS: Where will it be held?
JF: Both William and his father were christened in Buckingham Palace, but Kate and William have once again broken with tradition by choosing the Chapel Royal at St. James's Palace as the venue for the christening of baby George. The Chapel Royal holds a special significance for both of them — the body of William's mother, Diana, Princess of Wales, lay at rest there before her funeral, and it is also where Kate was formally confirmed into the Church of England before she married William.
PS: Are christenings a big deal for nonroyals in Britain, too?
JF: Yes. Even for couples that aren't overly religious, christenings are "the done thing" within the Church of England. It is usually a fairly small gathering — 60 people is about normal — and a formal luncheon usually follows the short church ceremony. It's very common for British couples to serve actual pieces of their wedding cake at their first child's christening. English wedding cake is soaked in so much alcohol it has what appears to be an infinite shelf life. Kate and William saved three tiers of their wedding cake, so many believe there is a chance of three royal babies on the cards.
Want to hear more from Jerramy, pictured above at Buckingham Palace? Then check out her books Someday My Prince Will Come, Bright Young Royals, and The Regal Rules for Girls.