Prince George's Official Portrait
See Prince George's First Official Family Photo!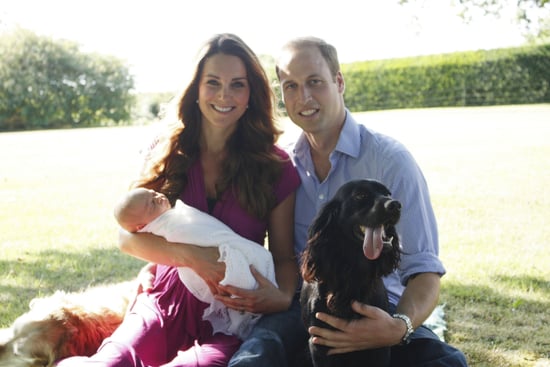 The Palace has released Prince George's first family portrait, and it's not what we expected. The Duke and Duchess of Cambridge have veered from royal tradition, nixing the official photographer's portrait and sharing their own snapshots of Prince George instead. The sweet pictures were taken in early August by Kate's dad, Michael Middleton, while the trio visited the Middletons' family home in Bucklebury. The couple's Cocker Spaniel, Lupo, makes an appearance along with the Middletons' Retriever, Tilly.
Recently we got a more intimate glimpse of the royal couple's lifestyle when Prince William opened up about fatherhood and Prince George during his first interview since George was born. "I did the first nappy; it's a badge of honor," Prince William said, adding, "He's a little bit of a rascal, I'll put it that way. He either reminds me of my brother or me when I was younger, I'm not sure, but he's doing very well at the moment."
The family portrait is one of several milestones we're excited to see throughout Prince George's first year. His christening is reported to take place this Fall, when we'll also get to learn about the chosen godparents.