Protests After Zimmerman Verdict
Protests, Interviews, and Controversy: The Aftermath of the Zimmerman Verdict
On Saturday, a Florida jury found George Zimmerman not guilty in the shooting of Trayvon Martin, sparking strong reactions across the country. Amid protests and heated celebrity reactions, even more controversy has surfaced, including the recent interview with Martin's parents. In the wake of the trial, Zimmerman is reportedly following through on an NBC News lawsuit, the gun he used to shoot Martin is being returned to him, and interviews with Martin's parents, Zimmerman's family, one of the jurors, and witness Rachel Jeantel have taken place. Catch up on all the action in the aftermath of the verdict.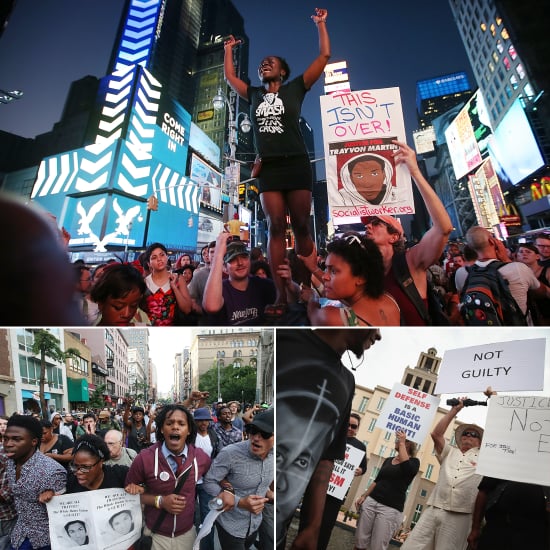 A Passionate Public Response
Since the February 2012 shooting, emotions surrounding the case have run high, with people on both sides of the case voicing their opinions. Tensions reached a fever pitch on July 13 as the six-person jury announced their "not guilty" verdict. After the verdict was announced, supporters of both Martin and Zimmerman held signs outside the Seminole County Criminal Justice Center in Sanford, FL, and people across the country took to the streets in protest.
An Internet Frenzy
Following the verdict, an image of Martin Luther King Jr. wearing a hoodie resurfaced across social media — the work of artist Nikkolas Smith. Although Smith first created the image just after the shooting in 2012, his statement-making art was widely shared in the days following the jury's verdict. Celebrities also took to social media to share their reactions to the verdict, with stars like Olivia Wilde, Rihanna, and Lena Dunham expressing their disappointment.
Keep reading for more about the aftermath of the Zimmerman verdict.
The Status of George Zimmerman
Now that Zimmerman is a free man, his gun will be returned to him under Florida law, which states that all evidence used in the case will be released. Reportedly, Zimmerman will also continue to pursue legal action against NBC News after the network aired an edited version of the 911 call. The network's aired call didn't include the dispatcher's question about Martin's race, so it seemed like Zimmerman brought up race on his own.
The next legal option for Martin's family would be to file a civil suit for their son's wrongful death. In that case, Zimmerman's crime would be a matter of violating the civil rights of a private party rather than breaking a state law, so he'd face paying monetary damages instead of jail time. That's how another highly publicized case ended — although O.J. Simpson was found not guilty, he was ordered to pay $33 million to his ex-wife's family when he was found liable for damages in a civil suit for wrongful death. Should Martin's family go down that path, Zimmerman may choose to testify to offer more evidence in his favor.
The Justice Department has also renewed its involvement in the case. Although the department first opened an investigation in 2012, the case was turned over to prosecutors at a state level. Now that Zimmerman has been acquitted, the Justice Department is examining the case to see whether Zimmerman violated a federal law by shooting Martin specifically with a racist, willful intent.
The Reactions of Zimmerman's Family
In an interview with Piers Morgan, Zimmerman's brother, Robert, shared his thoughts on the case. When Morgan asked Zimmerman's brother how he'd feel if things had been reversed and it was Martin who killed his brother, he said, "I would find and the jury has found that, unfortunately, [Martin] had the greater hand in his own demise — which was causing, by his own hand, death." He added, "Self-defense means you were defending your life from a real, perceived threat, whether or not you were injured to the degree that some would have you be injured in order to shoot someone or not. You actually perceived an imminent threat of great bodily harm or death and that is what the circumstances were."
Zimmerman's parents, Robert and Gladys Zimmerman, also appeared on TV after the trial, sitting down with Barbara Walters to talk about the verdict and the public response. Asked whether they're concerned for their son's safety, they said yes, mentioning "an enormous amount of death threats."
A Juror Comes Forward
Juror B37 — one of the six female jurors who found Zimmerman not guilty — sat down with Anderson Cooper on Monday to talk about her experience with the trial. Her controversial quotes included her thoughts on Zimmerman's guilt, witness Jeantel, and whether or not she'd feel comfortable with Zimmerman as her neighborhood-watch captain. Although it was reported Monday morning that Juror B37 had signed a book deal, later that day, Martin Literary Management President Sharlene Martin said that the deal was canceled.
Martin's Parents Speak Out
Martin's parents, Tracy Martin and Sybrina Fulton, spoke out for the first time since the verdict was announced. During an interview on CBS This Morning, Martin's dad said, "Trayvon was a fun-loving child. He was our child. We miss him dearly. To have your child's life taken away from you like that, it hurts. And it's a process that will take a long time to start the recovery from."
His mother said she was shocked by the verdict, adding, "I thought surely that he would be found guilty of second degree murder, manslaughter at the least. But I just knew that they would see that this was a teenager just trying to get home. This was no burglar. This was somebody's son that was trying to get home."
Asked about Juror B37's recent comments, Fulton said the juror didn't know Martin. "Trayvon is not a confrontational person," she said. "Instead of placing the blame on the teenager, we need to place the blame on the responsible adult. There were two people involved. We had an adult who was chasing a kid and we had a kid who I feel was afraid."