The Pursuit of Happyness was a Family Affair
The Pursuit of Happyness has been a family bonding experience for the Smith family. Will stars alongside his adorable son Jaden and proud mother Jada has joined them on their promotional tour. We're excited to see the movie this weekend, but it turns out Will really doesn't care if the film does well at the box office. He's just proud that he grew as an actor on the film and got to spend so much time with Jaden. Here's more: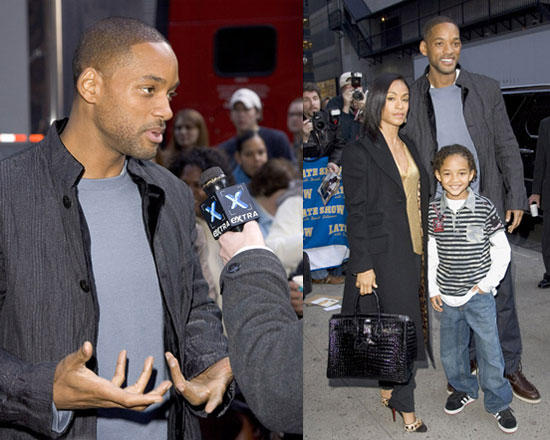 "What it taught me — it's interesting on camera and off with Jaden — is that the bottom line is time," the 38-year-old Philadelphia native said. "The amount of time you spend with your child. If it's in the bathroom or like Chris Gardner said on 'Oprah,' in a million-dollar home, it's the time. And Jaden and I got to spend every single day, 10 to 12 hours a day together working on this film. It became clear that whatever you have to offer financially doesn't matter. Whatever situation you're in, it doesn't matter. You have to be there. You have to be with your child. To be able to spend that many hours a day together, our bond took off in a way that I never imagined."

"I was struggling with a scene and [director] Gabriele Muccino would come and give me notes," Smith said. "Every time Gabriele would give me notes and wouldn't give any to Jaden; Jaden took that as him winning [laughs]! He would look at me like I got a note and he didn't.
Ahh... not only is Will a terrific actor, but what a fabulous father as well. More pics of Jaden, Will and Jada stopping by The Late Show so read more