Queen Elizabeth at Buckingham Palace For Royal Baby
The Queen Arrives at Buckingham Palace! The Royal Family's Whereabouts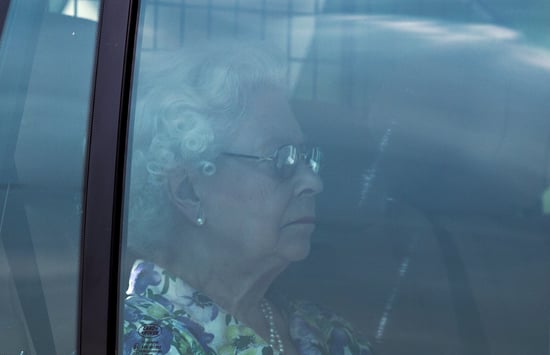 It's been a busy day for the British royal family! Around 6 a.m. local time, Kate Middleton was admitted to St. Mary's Hospital in the early stages of labor. Prince William was at her side as she arrived through the same entrance Princess Diana used when William was born. Since then, crowds have grown even larger across Britain as people celebrate the upcoming arrival of the royal baby. As we await further updates, find out what the future heir's family is up to:
Queen Elizabeth II: When the queen heard that Kate was in labor, she was on holiday at Windsor Castle in Berkshire. She's since returned to Buckingham Palace, where a bulletin will be displayed once the baby is born.
Prince Charles and Camilla, Duchess of Cornwall: Keeping up with his schedule of royal duties, Prince Charles is on an official visit to Yorkshire, and Camilla was expected to join him, although their plans may change should the royal baby be born.
Prince Harry: Soon-to-be-uncle Prince Harry is currently with his Apache squadron in eastern England at Wattisham's Royal Air Force base.
Michael and Carole Middleton: Kate's parents left their Bucklebury home when they found out that Kate was in labor, making it likely that they're now at the hospital with their daughter.
Pippa Middleton: Reportedly, Carole and Pippa Middleton are not expected to be with Kate in the birthing room. Pippa is expected to be at the hospital when her sister gives birth, but it's not clear whether she's already arrived at St. Mary's Hospital or not.