Quotes From Angelina Jolie and Johnny Depp About Eatch Other in The Tourist
Johnny Depp and "Wonderful Mommy" Angelina Jolie Gush About Each Other!
Johnny Depp and Angelina Jolie are two of the biggest stars in the world and have nothing but glowing things to say about their first experience teaming up in The Tourist. They are both in Paris to promote the movie, and at yesterday's press junket they shared glowing words about each other. A lot has been made about their first meeting in his office, and their shared interests in family and film created a wonderful friendship on set. During his interview, Johnny joked about his beard and pajamas before getting serious about connecting with Angelina. She talked about her kids, motivation for making the movie, and how Johnny kept her cracking up on set in Venice. Check out what they had to say about each other: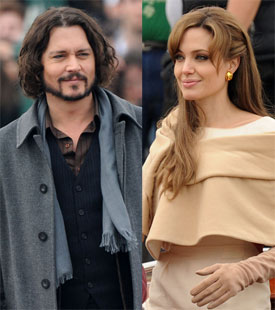 Johnny, what was it like meeting and working with Angelina?
Johnny Depp: She's a real treat to get into the ring with. She's a lot of fun and funny! She's deeply committed to the work, has a great approach, and is very smart. She also has a very, very absurd and perverse sense of humor. We met, oddly, right before we did this, which was just weird because we have a lot of mutual friends, acquaintances, and people we've worked with. When we sat down together, it was kind of instant. We got each other. Within minutes we were yakking about our kids, the perils of parenthood, and all that fun stuff.
Do you hope to have the chance to work with her again?
JD: Boy, I certainly would like to think so. I hope so. If she'll have me again, I'd be more than happy. She's a good girl. I have a lot of respect for her. In the face of all that she, Brad, and the kids have to deal with, being globally under the microscope every second of the day, she's grounded. She's as cool, normal, and low key [a woman] as you'd want to meet. She doesn't take it all that seriously. She is a wonderful mommy, a great mommy, which you've gotta take your hat off to as well. And she's out there trying to do things in the world, to help. She's impressive. She's a force.
Angelina, what was the best part of working with Johnny Depp?
Angelina Jolie: He's just such a nice guy. He's so funny and so fun to hang out with. He's just that friend you're so happy to come to work and do scenes with. Plus, he's such a brilliant actor. He's often thought of so much for his deep character work, but it really comes from an artist who is willing to try things. He's not just somebody who's doing these fun [movies]; he's a real experimental deeply-feeling artist, who gives a lot and is very gracious on set to everybody and to his fellow actors. He's just a pleasure.
To read what Angelina had to say about Johnny cracking her up on set and what made her feel at ease in his office, just read more.
The story is that you arrived early and got to look around Depp's office while you waited for your first meeting with him. Was there something in particular there that made you think you'd get along well?
AJ: I was on time, for the record, I was not early. You walk into someone's office and you see what's important to them. He's got lots of books and lots of pictures of his children. That's immediately somebody you feel at ease with.
He's very funny in this movie. Did he crack you up on set?
AJ: There's some footage floating around, that I'm surprised hasn't surfaced, of a good 15-20 minutes where we could not stop laughing. We wasted a lot of film. I got a lot of producers very frustrated because we just could not get through it.