Quotes From Britney Spears's Documentary For the Record
Britney Talks About Her Dark Period and Her Exes
We've been seeing lots of tidbits from Britney Spears's documentary, and even more quotes have been leaked following today's special screening. While Britney's life has come a long way in the past couple of years, she still has a lot to say about about her past and the person she once was. Here are highlights: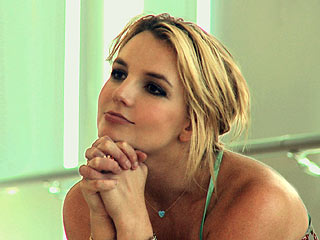 On Justin and Kevin: "With Justin, he was a part of the magnitude of what I had become. So when he was gone I was like, What am I supposed to do with myself? I was devastated [by the breakup] but I handled it a lot better than the [split] with Kevin . . . He started to do an album for himself and he started to do things for himself, and I just never saw him anymore . . . When it ended I felt so alone. I didn't really wanna think about the reality of it. I never faced it . . . I just ran."
In the aftermath of her 2007 meltdown: "My trust has really been battered . . . Sometimes it can get kinda lonely . . . I had totally lost my way. I lost focus. I lost myself. I let certain people into my life that were just bad people . . . because I was lonely . . .I really paid the consequences for that. Big time . . . What the hell was I thinking?"
On life these days: "Do I know my life is weird? It's all I've ever known. I don't see it as being weird . . . I'm kind of stuck in this place and I'm like, How do you deal? I just cope with it every day....It's better not to feel anything at all and have hope than to feel the other way . . . It's bad. I'm sad." She breaks down into tears. Later, she complains that her life is too in control these days: "It's like Groundhog Day every day. It's really boring . . . Normal is really different for everybody . . . In my situation, I try to make it as normal as possible for me . . . It could be a lot worse. There are people out there who have it a lot worse than I do . . . I used to be a cool chick but I feel like the paparazzi has taken that away from me, like, the way I used to live my life. I used to be a cool chick but I'm not anymore."
It's enlightening to hear a sincere voice coming straight from the source, and we're only more excited to see the full documentary when it airs next week.