Quotes From Robert Pattinson's Interview Where He Insists He's Single and Used to Look Like a Girl
Robert Pattinson Insists He's Single and Doesn't Know Why
Robert Pattinson's fans have been dissecting the photos of him maybe-kissing Kristen Stewart over the weekend, but apparently he is still declaring himself single. In an interview, Robert allegedly talks about how he thought being an actor would score him models and that actresses are too much of a handful. Rob also revealed what it's like to meet Twilight moms and his original desires to be a politician or musician. The big question we're left with, though, is: do you believe that he's really single? According to The Mirror: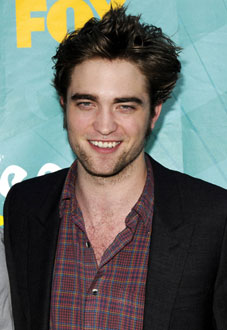 On being single: "I don't have a girlfriend. I don't know why. You always think you're going to get more girls after you've made a movie and it never happens. You sit there and you're like 'I'm a big movie star and I want to go out with some models' but I don't know why that doesn't happen. It's especially different in LA. Most of the women there are actresses and by default that makes them a little bit nuts – not that that's a bad thing. But I don't really have a type. Whenever I get asked who my favourite celebrity crush is, I have no idea."
On his fans, some of whom ask him to bite their neck: "I have to tell them: 'Look, I can't [bite you] I'm afraid, because it will hurt' . . . Most of the girls are all pretty young so it's just kind of funny. But then you get the Twilight Mums who love you like mums! And you can take that too far. I mean, it could be 'Edward breaks up Twilight family.' . . . I've been uncomfortable in crowds my whole life. I've always felt that everyone is looking at me . . . I could be in a supermarket and have a full-on panic attack when there's no one else there."
To read more from Robert, including his own analysis of his looks, which have him in our shirtless bracket finals, just
.
On his looks at the beginning of his career: "I always looked like a girl up until a few years ago and because I never did any sports or anything I was always kind of gangly. I was never really a good model. I was terrible at it. I wasn't skinny enough to be a little waif and I didn't want to work out to be a beefy guy so I was always stuck between two things and so I never got any jobs."
On how his life has changed: "My life is pretty much identical to before. I don't really do that much. All I do is read books and watch movies, I'm pretty boring."
With Eclipse filming starting yesterday and Breaking Dawn officially being confirmed as a go, there's lots more Pattinson coming our way as he continues to promote the Twilight Saga with his dry humor and charm.