Quotes and Photos of Jennifer Aniston on Oprah 11/13/2008
Jennifer Stops By Oprah To Talk Cake, Norman and Love
A very happy Jennifer Aniston was on Oprah today to catch up and talk about everything that has been rehashed this week — the Vogue interview, how Brad's doing these days, and her Angelina quotes. Jennifer admitted that she thinks the cover doesn't do the interview justice (we agree) and when asked whether she's dating John Mayer she answered "yes." She also denied pregnancy rumors and chatted with her costar Owen Wilson via satellite. The best part, other than Norman, might be her talking the election night cake that John blogged about earlier this week. Here's highlights: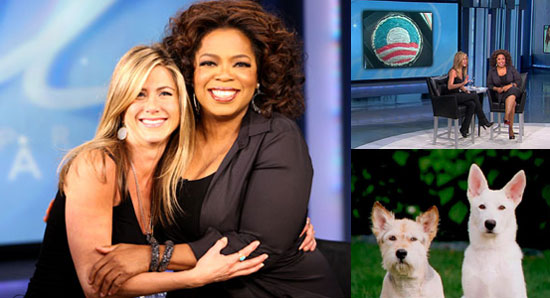 On the election: "I'm so happy to be in Chicago. The energy coming here, you can feel [it]. It's just amazing. . . We knew it was getting closer and closer, and then it was that realization of 'Oh my God, this is such a historical moment. [The Obama cake] is not like it's my grandmother's ancient recipe from the old country—it's definitely a Duncan Hines. Don't mess with perfection."
On the Vogue cover: "The content [of the story] does not reflect the cover," she says. "[Jonathan] asked me a question, and I basically just answered it as honestly as I could."
On Marley & Me: "For the first time I'm not the girl wanting the guy. It was a portrait of a marriage, and it was just an important experience for me. I really loved every minute of it."The character Jennifer portrays represents many real women, she says. "You get to that place in your life and you realize, 'I have to make a choice,' because either your work is suffering or your children and your family are suffering," she says. "It's not just a happy dog movie. It really does touch on some life issues that are not necessarily fun."
On her dog Norman: "I think Norman, having now been on Oprah and being in Vogue magazine, I think I'm cutting him off."
To see what she says about turning 40, love and Brad just read more.
On turning 40: "I think [turning 40] is kind of awesome. [But] I'm still pretty immature." Jennifer shows off her age-defying bod in the Vogue spread, posing in a bikini. "That's [from] yoga, running, eating well and taking care of myself."
On her love life: "It's a really nice thing to have so many fans and people that really care," she says. "I feel like I've been unbelievably lucky in love. It just might not look the way it's supposed to look at this point."
On Brad: "He's done some amazing things in the last couple of years," she says. "I think he's doing great."
Jennifer's head seems to be in a great place these days and her personality is as upbeat as ever. Women all over imagine Jen being a fabulous best friend and it's easy to see why — no wonder John Mayer wanted to give it another go with this gorgeous California girl.