Rachel Bilson Says No, No, No to Nudity
Rachel Bilson must have an appreciation for irony, because in an interview with Playboy magazine she opened up about her strong feelings about never going nude on film. Interesting forum, no? R-Bils also talked a little about her admiration of that maybe-boyfriend Hayden and waiting her turn in Hollywood. Here's more: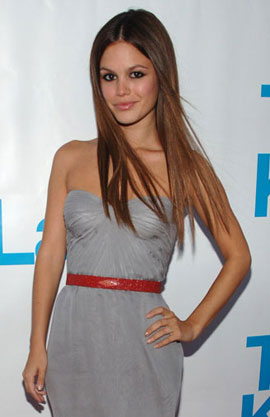 On nudity: "Movies can be sexy or sexual without showing things...It's almost a deal breaker. [The Last Kiss] was rated R, and they like to put in nudity wherever they can, but I'm pretty strong willed and believe it can be avoided."
On Hayden: He's an amazing guy and a fantastic actor... In those Star Wars movies I thought other people — people who are successful and Oscar-nominated — came off looking much worse than he did. But he caught a lot of s--t, which really made me mad."
On the jobs she wants: "The roles I want usually go to Kirsten Dunst, Keira Knightley, Scarlett Johansson, Natalie Portman or Kate Bosworth — even though I look younger or older than a few of them. I understand they were once where I am now, and my ultimate goal is to get to that point. Hopefully, I'll achieve it, but you never know."
She may not be removing her clothes on screen, but she's all about taking off her jeans these days. Sad face that she doesn't get the parts she wants but maybe Jumper will catapult her into the league she wants to be in. Our girl wasn't the star of The O.C. for nothing.