Rashida Jones Tweets About Shazam
Our Favorite Funny-Lady Tweets of the Week
We're rolling into August with our favorite funny-lady tweets of the week! This week on Twitter, Rashida Jones had a groundbreaking idea for those acquaintances you can't seem to remember, and Mindy Kaling shared a great tip for the professional work environment. Diablo Cody and Mae Whitman, on the other hand, focused on bodily health and willpower.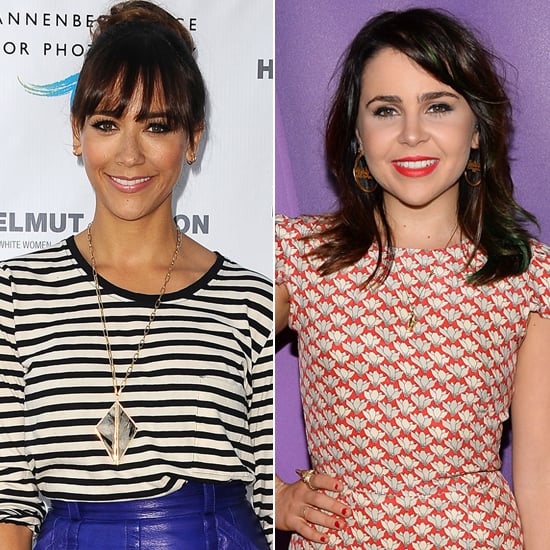 Life would be so much easier if Rashida Jones was an inventor.
I wish you could Shazam someone's face

— Rashida Jones (@iamrashidajones) July 31, 2013


And she didn't even ask if we wanted any of it. Thanks Mae.
Oops ate a burrito and two tacos already today oops bye

— mae whitman (@maebirdwing) July 29, 2013


Listen, we're not going to tell you how to live, Lena, but we'd appreciate some consistency.
My instagram makes my life seem full and rich while my twitter paints a far sadder picture #selfawareness

— Lena Dunham (@lenadunham) July 31, 2013
Check out the rest of the funniest tweets when you read on!


Am I the only one who would be down if Mindy Kaling said this to me?
"Kiss me on the lips or you're fired!" is something you shouldn't say to your crew, I learned today

— Mindy Kaling (@mindykaling) July 31, 2013


Diablo Cody sets the standard for willpower. So impressive.
I made it until 11:22 AM without cookies.

— Diablo Cody (@diablocody) July 29, 2013


Ellen Page sure knows how to appreciate nature's gifts.
A bird pooped on me! #nature #life #blessed

— Ellen Page (@EllenPage) August 1, 2013


Something tells me Sarah Silverman is a little confused about POWs.
I feel like I'd be a great POW - only caveat is I can't bear discomfort

— Sarah Silverman (@SarahKSilverman) August 1, 2013


Oh man, to be a fly on the wall during Chrissy Teigen's therapy sessions.
Stop telling me to get a therapist because I know for a fact they would tell me to quit twitter then we all lose

— christine teigen (@chrissyteigen) July 30, 2013


Zing! Point for Bette Midler.
Kate Middleton says that breastfeeding little Prince George is more comfortable if she takes the silver spoon out of his mouth.

— Bette Midler (@BetteMidler) August 1, 2013


So that's why Anna Kendrick sounded sexier than usual.
Yes, you caught me! My allergies were giving me that super sexy voice on #SYTYCD last night. (Nasal 8 year old boys sound sexy right?)

— Anna Kendrick (@AnnaKendrick47) July 31, 2013


"You guys, we have to do it this way. It was comedy writer Megan Amram's dying wish."
Face down, ass up, that's the way I want my open casket funeral

— Megan Amram (@meganamram) July 31, 2013


Not to hate on Kristen Schaal, but I'd like to be considered for this role as well.
I could excel at any role where the character is described as chronically sleepy.

— Kristen Schaal (@kristenschaaled) July 31, 2013


Don't let Bert the Muppet hear you say that, Kristen. He'll be pissed.
Nobody is named Ernie anymore, huh?

— Kristen Bell (@IMKristenBell) July 30, 2013


I can relate to comedian Kelly Oxford. One time I got weepy from watching 30 Rock.
Just welled up with tears listening to Cheers opening theme song in case you didn't know what PMS feels like.

— kelly oxford (@kellyoxford) July 30, 2013