Reese Is Happy to Share Her Clothes and Dish While Running
Reese Witherspoon wore another cute casual outfit out shopping today, though this time she didn't have her kids to accompany her. Reese was once again one of our favorite females of the year and she once again showed her Southern girl sensibilities during an interview for the February cover of InStyle UK. She didn't gush about any men, instead focusing on all her girlfriends and their love of sharing clothes. Here are highlights: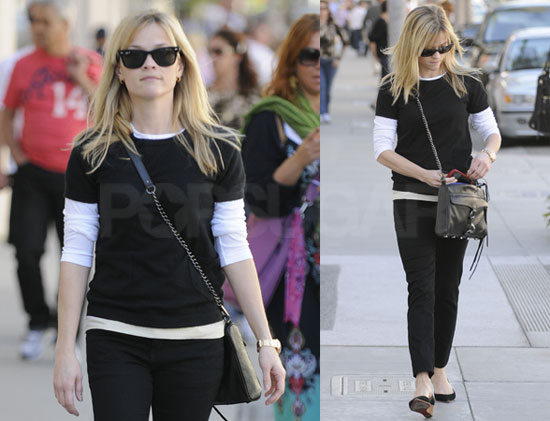 On exercise: "I try to exercise every day. I like to run for about an hour and I'm big into working out with girlfriends. It's an acquired skill, being able to discuss your love life, children and friends – all while you're running! But we have mastered it."
On living in LA: "Sometimes it's really difficult for me, being far away from home. LA is where my job is and I have to be close, but I never imagined that my children wouldn't grow up next door to my brother's children. Or that my mom and dad wouldn't constantly be around. You know, I had dinner every night with my grandparents as a kid, so I think missing out on that is a hard compromise. At least I have a lot of southern friends in LA — I gravitate toward them. I think of those people as a part of my family: they take care of me and I take care of them."
To see what she has to say about Ava growing tall and sharing clothes, just
.
On sharing clothes: "There are three of us who wear pretty much the same size, so we'll get together on a Friday night and I'll bring clothes I want to trade and they'll bring theirs. We swap shoes and handbags a lot. I wore my girlfriend's dress to a wedding recently. It's fun."
On Ava: "She's almost as tall as me — it's getting scary. But when she and Deacon get home from school, it's more about gymnastics, horse riding, karate, or whatever."