Reese Is Loving Her New Look
Reese may have had a difficult year but you would never know it by looking at her. She's been working out, doing yoga and obviously taking great care of herself. Every time we've seen her recently, she's been absolutely glowing. In this month's issue of Harper's Bazaar, she's opens up about feeling the positive change as well. Here's more: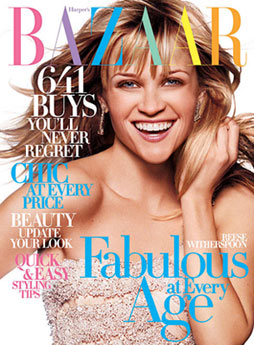 "I felt like I looked different than I've ever looked"....The Oscar-winning actress and mother of two has taken some fashion hits for dowdy choices. She credits Nina Ricci designer Olivier Theyskens for the fresh look that has evolved since she and husband Ryan Phillippe split in October. "I've used a stylist before, but these days I'm kind of just going with Olivier's taste."

Also contributing to her new sleek style: closet purging. "I recently put a big pile of clothes on the floor of my closet, and I looked at a lot of the stuff and thought, 'That's not me at all. What was I thinking?' (For Legally Blonde) I went through a pink phase like you wouldn't believe. Then there was a (Italian label) Marni phase when I was doing Sweet Home Alabama that was out of control."
We, too, just loved her in that yellow Nina Ricci dress at the Golden Globes -- it really was the perfect coming out look for the new happy, healthy, single Reese.