Robert Pattinson Parade Magazine Interview 2010-03-10 09:15:15
Robert Pattinson Talks Confidence and Doggie Love in Parade
Robert Pattinson's Remember Me comes out on Friday, and his fans are so excited to see their favorite actor take on a serious leading role post-Edward Cullen. He chatted with Parade about confidence with girls, revealed what it was like to lose his beloved dog, and defended New Moon director Chris Weitz, who had his own self-criticism to share with Buzz last week. We got our first peek at a trailer for Eclipse and debuted the first segment of our contest to interview Pattinson — lots of Rob today! Here are some highlights from part one and part two of the Parade article: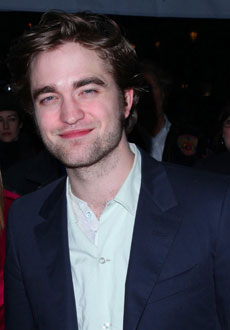 On confidence: "When it comes to the opposite sex, I'm not as fully confident as the guy I play. I don't even remember the last time I asked someone out on a date, like, just went up to them and that's the first thing I did. I'm much more self-conscious and not wanting to fail. So I tend to hold back."
On knowing what it's like to lose a loved one: "I keep talking about my dog all the time. It was an incredible dog, and I said in an interview recently he was the most important person in my life. My family went crazy with me for saying that. But, however ridiculous it may seem to some people, my relationship with my dog was a defining moment. Having the dog die was, literally, like the worst day of my life. It was like losing a family member."
On reading reviews: "I didn't like the way New Moon was treated by the critics. I think it was reviewed in the context of just being a big franchise movie. When something is so hyped, inevitably, there is a backlash against it. I think Chris Weitz is an amazing director. I really enjoyed the film. So the naysayers kind of annoyed me."
On putting out an album: "I kind of want to do one at the end of the year. All my friends are recording albums and I'm very annoyed about it. But I can't do two things at once. I don't know how people like Jennifer Lopez can act and also sing. I'm just like, 'I can't.' But, hopefully, I'll find some time to get it together."
On Pierce Brosnan: "We went out to dinner in a restaurant full of all these guys who looked like bankers or brokers. They didn't recognize me, but they recognized Pierce. And he said, 'Notice those people looking over?' I'm sitting there getting more and more self-conscious, even though I didn't realize they weren't looking at me. Suddenly, Pierce got up and introduced himself to everybody in the restaurant. At first I was like, 'What are you doing? You're like completely insane.' But it worked. Everybody just relaxed and stopped staring and you could tell they were going to go home and say, 'Pierce is such a nice guy.'"