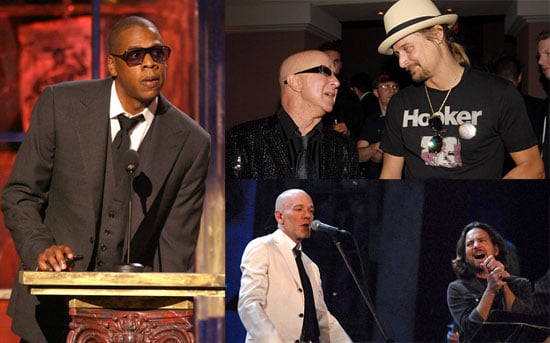 0
Rock and Roll Hall of Fame Celebrates The New Kids
It was all about the Rock and Roll at the Waldorf Astoria in NYC last night as musicians young and old gathered to celebrate the latest inductees into the Rock and Roll Hall of Fame. Among this year's honorees are REM, Van Halen and Grandmaster Flash. As usual, Jay-Z was the most dapper man in the room as he read his speech from his Blackberry, "Thirty years later, rappers have become rock stars, movie stars, leaders, educators, philanthropists, even CEOs. None of this would have been possible without the work of these men." Congratulations to all who are now part of the club! So, who was your favorite hall of famer this year?
Many more pics including Jay-Z, Andy Samberg and Kid Rock, so just
Images include Aretha Franklin, Paul Shaffer, Eddie Vedder, Keith Richards, Jay-Z, Sammy Hagar, Michael Anthony, Amy Poehler, Seth Meyers, Fred Armisen, Maya Rudolph, Andy Samberg, Mike Mills, & Kid Rock.