Rosie and Barbara's Backstage Battle
Rosie and Barbara's Backstage Battle
Don't think for a second that Rosie is going to calm down about her feud with Donald Trump anytime soon. Rosie totally freaked out yesterday when she returned from a two week vacation. She was pissed Barbara didn't do enough to defend her during this entire Donald fiasco. Page Six reports: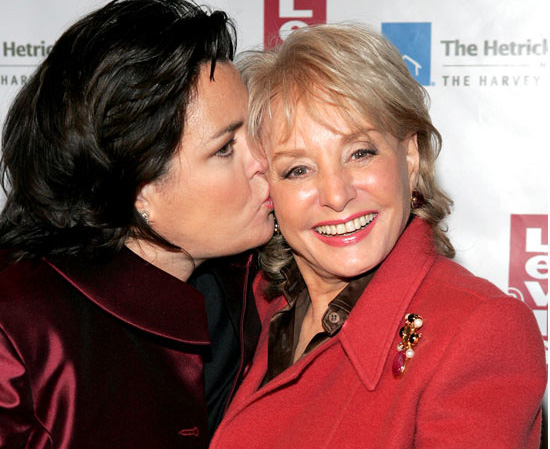 According to spies, O'Donnell recoiled from Walters' touch and yelled, "You kept me in the newspapers this whole time!"

Both "View" producer Bill Geddie and Walters tried to calm O'Donnell. Walters told her, "I did everything I could to squash the story" - prompting Rosie to scream, "You didn't call me for 10 goddamn days, and you didn't tell me what you were going to say on television!"

O'Donnell is fuming because Trump went on Larry King two weeks ago - after she had called Trump a "snake-oil salesman" - and said Walters told him she regretted hiring O'Donnell. Trump also blasted the comic as "a horrible human being and a loser."

During her vacation, Walters issued a carefully worded statement saying, "I'm sorry there is friction between Donald and Rosie. That said, I do not regret for one moment my choice to hire Rosie O'Donnell as the moderator of 'The View.' "

After O'Donnell's outburst at Walters yesterday, Geddie jumped in and told her, "You've crossed the line." O'Donnell retorted, "Cameras are now outside of my house where my wife and kids are." She turned to Walters and said, "You went all around this and never called [Trump] a liar. You never said, 'Donald is lying.' You never called him a liar."

When Walters tried to defend herself, O'Donnell erupted, "Are you looking me in the face and denying you didn't tell him you didn't say this? You're a [bleeping] liar."
Reps are now of course saying this is no big deal and the two have moved on, but we're sure this isn't the last we'll hear of the continued saga. It seems as if everyone should move on from this annoying tiff. I consider Rosie the winner at this point since Trump did this whole thing for a promotional stunt for the latest season of The Apprentice which just bombed in the ratings.