Rosie to Leave The View? When Will She Nonsensically Blog About It?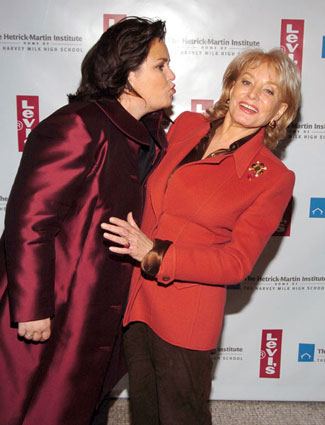 After months of rumors and one feud with Donald Trump that has gone on way (WAAAAAY) too long, Rosie O'Donnell may be leaving The View. According to TMZ, she is expected to make the announcement on air this morning, but stick it out on the show until the end of the season. Rosie has been surrounded by both controversy and praise since she joined the cast.
Her just under a year on The View will probably be best remembered for her extremely (and annoyingly) public argument with Donald. It's honestly hard to remember what it was originally about (Miss USA? Really?), but it got particularly ugly when he brought Barbara Walters' rumored distaste for Rosie on the show into the picture.
Who knows what the full reasons are for Rosie's supposed exit, like whether it was her doing or she was urged out, though something tells me we'll find out. Secrets don't seem to exist with that bunch. May I respectfully suggest that Barbara take this as a cue to shut down the show entirely? The tension between the women on that show is palpable these days. Stay tuned for updates as we figure out the full story!