Royal Family Preparing For the Royal Baby
How the Royal Family Is Preparing For the Arrival of the Royal Baby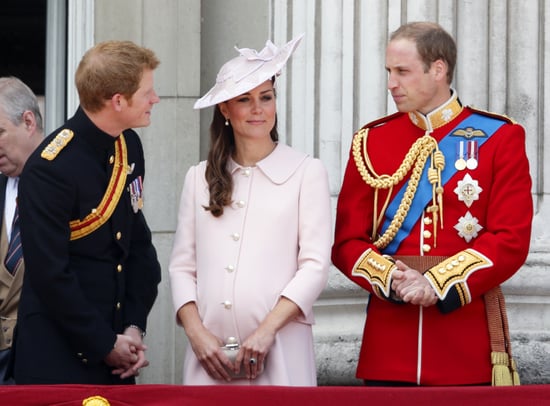 All eyes are on the royal family, as Kate Middleton is due to give birth to the royal baby any day now. While few details are being divulged, some members of the royal family have recently spoken out about the future heir's birth. Both Queen Elizabeth II and Camilla, Duchess of Cornwall, have commented on the royal baby this week, expressing their excitement for the little one's arrival. As royal-baby fever steadily grows, see how the family of the future prince or princess has been staying sane and getting ready for arguably one of the biggest events of the year.
Kate Middleton
The Duchess of Cambridge has been preparing for the arrival of the royal baby in the only way she can: by waiting. She wrapped up her final public appearance on June 16 when she took part in the Trooping the Colour parade alongside the royal family, and she recently left London to spend time with her parents at their home in Bucklebury. She'd previously been staying at the couple's home, Nottingham Cottage, in the grounds of Kensington Palace in London while waiting for renovations to finish up on the family's private apartments inside the palace itself. Once she goes into labor, Kate will be taken to the Lindo Wing at St. Mary's Hospital via police escort. When she is safely inside the hospital, the palace will announce that Kate has gone into labor.
Keep reading to find out how the rest of the royal family is preparing for the royal baby.
Prince William
Although Prince William has largely been keeping up with his usual work schedule and royal duties, he recently ended his current series of shifts at the RAF Search and Rescue base in North Wales in preparation for the arrival of his firstborn.
The Duchess of Cambridge's rumored due date was July 13, but over the weekend, Prince William stifled speculation that Kate would give birth when he played in a charity polo match with Prince Harry in Gloucestershire, which is roughly 100 miles away from London.

Prince Harry
Prince Harry has eased up on his royal duties as of late, instead choosing to spend time with his girlfriend, Cressida Bonas. They dropped by the Glastonbury Festival in late June, and the pair met up to attend a Mumford & Sons concert in London earlier this month. He is also scheduled to attend an art exhibition for his charity Sentebale in London on July 25.
It hasn't all been about concerts for Harry, though, who recently qualified to become an Apache aircraft commander after undergoing a six-hour assignment in Cumbria. The new job will not change Harry's captain title, but it will allow him to take a bigger role in helicopter missions.
Queen Elizabeth II
The queen has been keeping with her usual schedule of royal appearances as the palace prepares for the arrival of her great-grandchild, but she seems to be getting antsy. While speaking with children in northern England, she was asked whether she'd prefer the royal baby to be a boy or a girl. She said, "I don't think I mind. I would very much like it to arrive. I'm going on holiday. No sign yet."
Queen Elizabeth II attended the Royal Ascot in late June, where her horse won a major race, and she recently decreed that Kate and William's child will be titled as a prince of princess, making the formal title HRH Prince or Princess of Cambridge. While she has been busy with work, she did make time to have a private meeting with Prince William on July 4.
She will not be present when Kate gives birth at St. Mary's Hospital, but she will most certainly be one of the first people to find out about the birth, as William is expected to call her from the hospital. The queen's press office will formally announce the birth of the royal baby when a notice, signed by Kate's doctors, is placed at the gates of Buckingham Palace.
Prince Charles and Camilla, Duchess of Cornwall
Prince Charles and Camilla, Duchess of Cornwall — who celebrated a birthday today — haven't shown any signs of slowing down in the days ahead of their grandchild's arrival. The couple has kept up with a slew of royal appearances, including a visit to the Doctor Who set and hosting the star-studded Animal Ball at their home, Clarence House, in London. As with the queen, Prince Charles and Camilla will reportedly not be in the delivery room or at the hospital when Kate gives birth, but they will be kept in the loop by William ahead of the official announcement. Camilla recently expressed the family's excitement, saying, "We are all just waiting by the telephone. We are hopeful that by the end of the week he or she will be here."
Carole and Michael Middleton
Carole Middleton has been keeping close to Kate as her due date approaches, but last week, the rest of the Middleton family spent time with the royals at Buckingham Palace for the Coronation Festival Evening Gala. According to reports, Carole may be at the hospital with Kate when she gives birth if William is unable to make it to the delivery room for some reason. Kate is in good hands with Carole, who apparently knows how to deliver a baby thanks to her emergency training as a flight attendant on British Airways. Once the little one is born, he or she may stay with Kate's parents at their home in Berkshire for its first few weeks.