Russell Brand Dishes on His Past in Elle
Russell Brand Dishes on His Wild Past — Fascinating or TMI?
Russell Brand has been sharing a great deal about his personal life in the run-up to the release of his new film, Arthur, on April 8. The movie features Russell playing the title role of a drunken playboy. It was a challenge for Russell, who's famously a recovered sex and heroin addict. He opened up to Elle magazine about the unique bizarreness of tackling such a part, letting fans know a little about what his life was like before recovery. He said: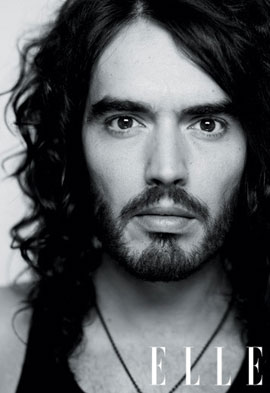 On Dudley Moore's performance in the original Arthur: "He played drunk as sweet and affable. Really, alcohol in the film facilitates clowning. I was a very different kind of an alcoholic. I was much more an oaf, smashing stuff up and crying and causing problems."
On being in recovery and playing someone who's not: "It was very strange. I kept little plastic bottle of booze around the set that I'd smell before each take. That really helped me because I've got huge emotional resources to call upon."
On his past promiscuity: "A friend of mine once said, 'You are devoted to your lover, but she has a thousand faces . . . If she's not there, you must call her, for you have to see her . . . three, four times a day — making love with your lover of a thousand faces.' That's how he described my epic promiscuity."


He's very open about the struggles he endured to due sex and drug abuse, and tell us what you think of his candid comments — fascinating or TMI?