Russell Is An Expert in Nonverbal Communication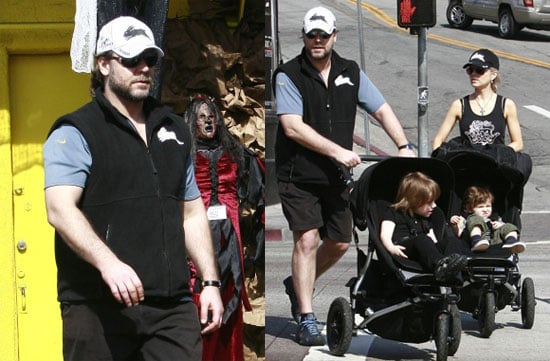 0
Russell Is An Expert in Nonverbal Communication
Russell Crowe and his wife Danielle looked like a perfectly athletic (bunny loving!) couple out on Sunset Boulevard with little Tennyson and Charles yesterday morning after their big LA premiere of American Gangster. We got a glimpse into Denzel, Russell and their banter off screen and I can't wait to see how they work together in the movie. Russell had some great sound bites of his own in that EW article — on playing real people and working with Ridley Scott. Here's highlights:
On playing real life people: It's incredible when you've actually got the source, still alive, still erudite, still willing to discuss things with you and give you details. A lot of it is osmosis, though, man. You can pretend you're shaping it and putting it together, but if I spend enough time with someone, I pick stuff up I'm not really fully conscious of. You just do your best to get some sort of accuracy. You're not a slave to it, but you don't want the person you're playing to scoff at the end and say, ''That's nothing like me.''
On working with Ridley Scott for the third time: Ridley and I have perfected the art of the wordless argument. He'll look at me across the room and nudge his head one way and I'll go, ''No,'' then he'll open his eyes a bit wider and look that way and nod and I'll go, ''Uh-huh'' — and we've just worked out the blocking of the scene. It saves a lot of time.
If any actors could make a living historical figure proud, I'm sure Denzel and Russell are the men for the job. As much as reading this interview has shown me a funny side of the intense actors, methinks the movie's not going to be a laugh riot. I just hope it lives up to all the hype. Lots more pics so