Ryan Phillippe's Still Getting Over His Loss
Ryan Phillippe's Still Getting Over His Loss
Last week, Ryan Phillippe chatted with Howard Stern about how he's happy for Reese and Jake, but watching your ex move on is never easy. As he continues to promote Stop-Loss, Ryan is still opening up a little about his personal life, his kids, and Reese. Here are highlights from an interview with USA Today: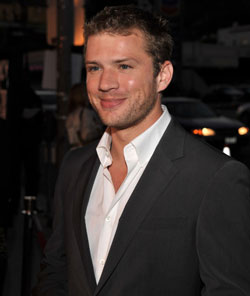 On seeing photos of Reese and Jake: "It's bizarre. There's plenty of times when I say, 'What a strange situation I've found myself in.' But at a certain point you know it's going to happen, so you are prepared in some fashion."
On getting married again: "I can see doing it again, yeah. And I can certainly see possibly having children again. I'm pretty young, and there are many beautiful things about that idea of marriage and family. It just doesn't always work out perfect for everybody. But I've done all I'm going to do in terms of talking about that part. It's fair to her and fair to myself to move on."
There might always be a part of Ryan that loves Reese, but it sounds like he's got a good head on his shoulders and is ready to move on with his life. Whether or not he's got a new lady friend, he always has his adorable blondies to help keep his chin up.