Ryan and Rachel's Mutual Admiration
Ryan and Rachel's Mutual Admiration
While we were sad when Ryan Gosling showed up to the Academy Awards without his gorgeous girlfriend, Rachel in tow, we knew it wasn't because there was trouble brewing. The two may be private about their love, but that doesn't mean they aren't blissfully happy together. Last month, we were lucky enough to hear Rachel gush about her man, Ryan, in the pages of Elle Magazine. This weekend Ryan returned the favor at a press junket for his new film Fracture. Here's more: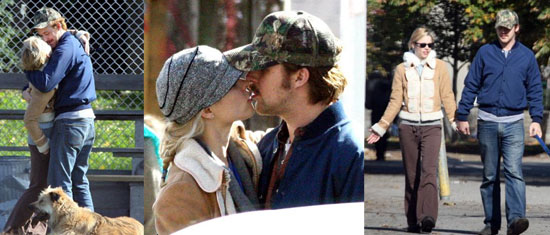 "She's kind. She doesn't need any help from me. She's inspired me to do so much as well," Gosling, 26, said Sunday when asked about McAdams's comments.

McAdams, 30, told the magazine's April issue that her beau – and costar in 2004's The Notebook – "never does the same thing twice. He's very brave."

But Gosling, a Best Actor Oscar nominee for Half Nelson, says McAdams has good judgment in her own right: "She's the most discerning person I've ever met. She'll read a script 100 times. She's relentless."

And she's not bad looking, either: Asked to comment on McAdams's cover shot for the magazine, Gosling was momentarily tongue-tied.

"Oh ... yeah ..." he said. "She looks stunning! Absolutely – yeah!"
We certainly think that she always looks fabulous, but we especially love seeing the two of them together. Even looking at older pictures like these just makes us smile! Hopefully with their upcoming movies we'll get a few chances to see them walk the red carpet hand in hand.