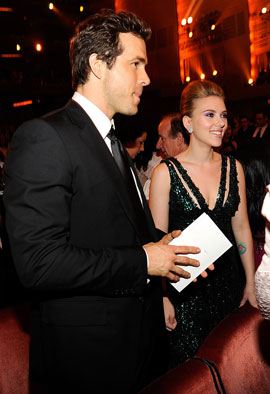 Update: Ryan and Scarlett have confirmed the news in a statement. They said, "After long and careful consideration on both our parts, we've decided to end our marriage. We entered our relationship with love and it's with love and kindness we leave it. While privacy isn't expected, it's certainly appreciated."
According to TMZ, Ryan Reynolds and Scarlett Johansson have separated. The couple, who married two years ago in a small, remote Canadian ceremony, are reportedly living separately and everything is amicable. Other sources suggest that she initiated the split due to her unhappiness over their being apart so often.
They were spotted together earlier this year on a vacation in Switzerland and Austria, which Scarlet later admitted was "a disaster." They also each picked up hottie honors when she was crowned GQ's Babe of the Year and he was anointed People's Sexiest. It's a sad turn of events for the pair, who only recently seemed comfortable stepping out in public together.