Ryan Reynolds on Spanish TV | Pictures
Viva Señor Reynolds! Ryan Gets Silly on Spanish TV
Sometimes the most absurd scenarios bring out the cutest reactions from our favorite stars. That was certainly the case when Ryan Reynolds appeared on El Hormiguero, a Spanish television show, in Madrid today. He got goofy with the host and other guests, throwing a pie in someone's face and mixing up cement. We've scoured all the photos from the eventful episode to round up Ryan's most endearing moments. That same day, Ryan made another, less dramatic stop at the Eurostars Hotel to celebrate the anniversary of Hugo Boss's Boss Bottled scent.
When Ryan smirks as the host gently wipes his face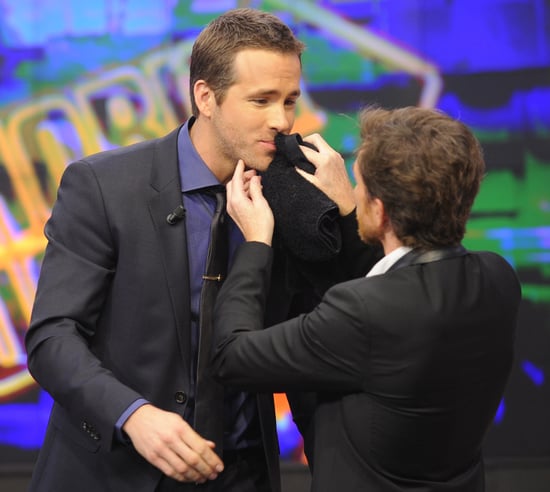 When Ryan's dreamy stare deepens as he touches the host
When the host jumps into Ryan's big arms
When Ryan throws a pie in a guy's face
Keep reading for more of Ryan's silly moments.
When Ryan laughs after throwing a pie in a guy's face
When a man in a cape tells Ryan to pour water
When Ryan looks surprised by a bottle
When Ryan looks embarrassed about being one of People's Sexiest Men Alive