Ryan Reynolds Is Valentine's Day Candy
Ryan Reynolds Is Valentine's Day Candy
Start Slideshow
ADVERTISEMENT ()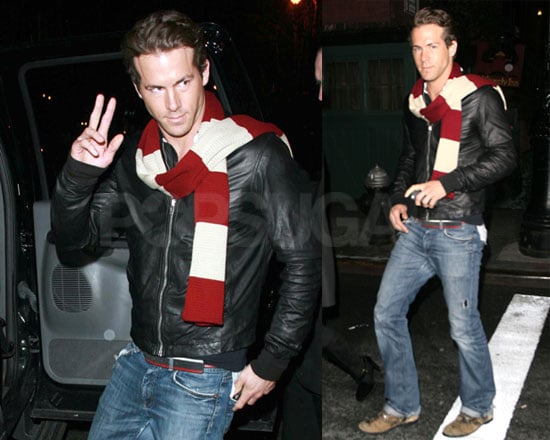 0
Ryan Reynolds Is Valentine's Day Candy
Ryan Reynolds has been everywhere lately, and this is one celebrity overload we're not complaining about. He was looking pretty hot leaving the Waverly Inn yesterday in his leather jacket and red scarf — Valentine's Day manjoyment! He probably has something sweet planned to surprise his girl Scarlett over in Berlin, but he recently talked to Parade about his very first love. He said,
You have different loves before you settle down with that one person who really kind of rings your bell. It was Ariel, in high school. I was just head over heels for her. She gave me a smooch behind the dumpsters outside of shop class. Unfortunately, she smoked these herbal cigarettes so it was literally like kissing a bucket of dirt. It was awful.
We never pinned Ryan for a romantic, but getting a peek at his softer side confirms that Scarlett is one lucky lady. Even though he's taken, you can still check out his sweet romantic comedy, Definitely, Maybe. The film hits theaters today and Buzz is already singing its praises.