Ryan And Some Real Girls Hit NYC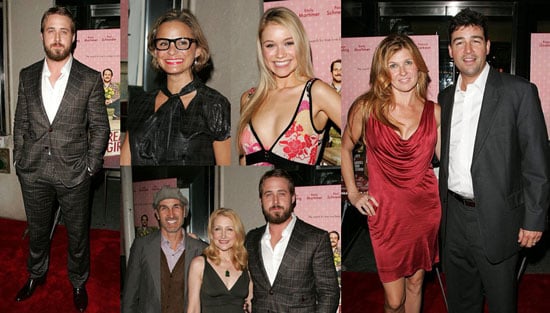 0
Ryan And Some Real Girls Hit NYC
Just one night after his LA premiere of Lars and the Real Girl, Ryan was showing it off in NYC. I was lenient with Ryan's first red carpet look, but this is kind of unfortunate. Though, golf claps for following through with the unique gray suit trend? I'm going to go ahead and blame jet lag for most of this. I can usually get behind the scruffy bearded look, so hopefully it'll be back to dreamy soon for Ryan. Meeting him on the red carpet was the movie's director Craig Gillespie and co-star Patricia Clarkson along with Amy Sedaris, whose quirkiness fits in perfectly with this movie. I'm especially excited to see the stars of two of my very favorite shows on the red carpet — Katrina Bowden from 30 Rock (back tonight! Yay!) and Connie Britton & Kyle Chandler from Friday Night Lights (back tomorrow! Double yay!).
To see more of the premiere including Lost alum Maggie Grace and all the people above just
Images include Ryan Gosling, Michael Nouri, Katrina Bowden, Connie Britton, Amy Sedaris, Kyle Chandler, Craig Gillespie, Patricia Clarkson, Maggie Grace.