Sarah Michelle is still hard at work on the set of her latest film The Girls' Guide to Hunting and Fishing. She hit the streets of NY the other day with a fabulous Prada bag and black leather pants. Her character is obviously every bit the New Yorker, which is a good thing in Sarah's book. She says she gravitates toward strong female roles and is very happy that she's able to pick and choose her movies right now. Here's more: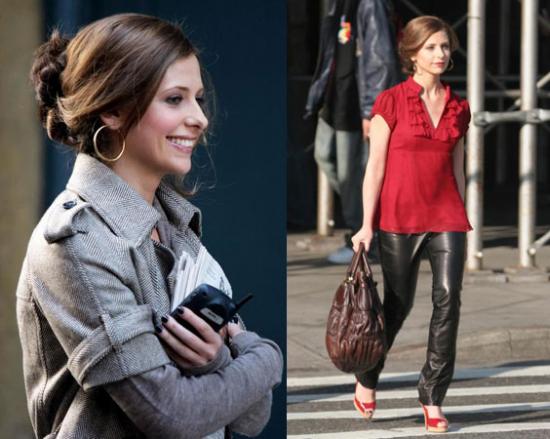 Sarah seemed to be relishing her strong new look, complete with brunette hair-do, and adds that she likes playing feisty female roles. "I've always been fascinated with Asian movies. I love that women can play a lead. There are still only certain film genres where a woman can stand out and be heroic, be the centrepiece."

The Buffy The Vampire Slayer star says she's been enjoying shooting a range of films, since she left the popular TV show. "We joke that I'm a professional commitment phobe right now. Eight years of my life I knew what I was doing and it was very planned. I chose my movies based on hiatuses and didn't choose them based on whether I was dying to do it. The first thing I'm learning right now is that I can really wait until there's something I really want to be a part of and I want to do."
And it looks like Sarah has plenty of roles to choose from. She has two more films lined up after this one. For more pics just read more