SMG Would Not Be A Good Porn Star
Sarah Michelle Gellar talks about her experience playing a porn star in the film Southland Tales in the November issue of Glamour Magazine. The film also stars Seann William Scott, JT and The Rock. We already know she has a recognize JT on the set. Here are some highlights from the Glamour article: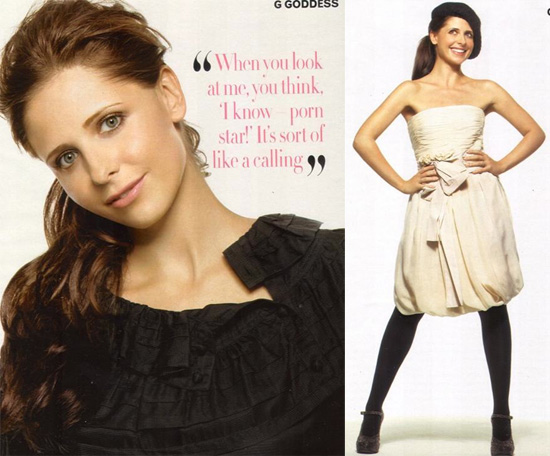 "When you look at me, you think, 'I know - porn star!' it's sort of like a calling." She pauses for comic effect then answers the question honestly. "Seriously, it was mortifying! Just mortifying!"

She took the role because it was so interesting. "I've known Dwayne for a long time and we thought, how funny would it be if we were a couple in a movie? It would be like the midget and the giant! Then I got this script and I sent it to him immediately."

"Dwayne and I were giggling the whole time! The first time we did a kissing scene, he was shirtless and I was wearing this ridiculous black negligee with Marabou heels, and they decided to move the scene out onto the balcony so they could see the water behind us. And of course there were paparazzi outside. So we closed our eyes and went for it. The only way to stop laughing was to get into character because otherwise we'd never have got through the scene!"
Doesn't sound so mortifying if they couldn't stop laughing. However, it also doesn't sound like SMG would be able to take on the role of being a porn star for real. Anyway, SMG looks super sophisticated and very not porn star-like. To see what I mean just read more