Sacha & Isla Would Rather Keep Things Under Wraps
Sacha & Isla Would Rather Keep Things Under Wraps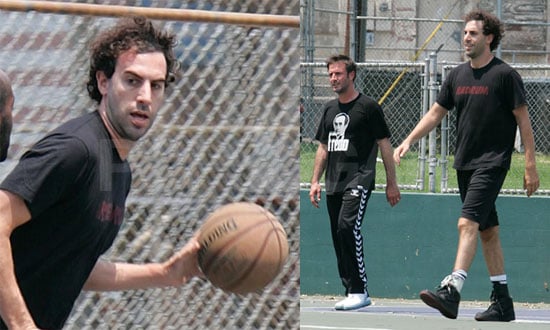 0
Sacha & Isla Would Rather Keep Things Under Wraps
Sacha Baron Cohen and David Arquette left their ladies at home to sweat it out on the basketball court in LA this weekend. We love that these two couples have been spending time together, and it's pretty adorable to see Sacha and David getting all intense like high school boys. Sacha and Isla have definitely been in the limelight a lot more with the huge success of the Borat movie and their baby on the way, but in Details this month, Isla revealed that they'd like to keep their life together as private as possible. Here's more:
"I know I brought it up," she almost whispers, "but I don't want to talk about my relationship." You get the sense that the regular person in her would love to chat about it, but the rising celebrity in her knows she shouldn't. She and Cohen haven't yet been targeted by the paparazzi, and they'd like to keep it that way for as long as possible. "We kind of get away with it," she says. "I'm knocking on wood."
They definitely seem like one of Hollywood's more grounded couples. We'd love to see more of them but it seems that we only get lucky to catch a glimpse of them when they are hanging out with their famous friends.
More of David and Sacha getting their game on, so just