Salma Confesses Her New Addiction
Salma Hayek is known for her sexy curves but it turns out some of them might not be going away anytime soon. The actress, who was spotted in NYC with baby Valentina last night, has been happily breastfeeding for the past 14 months. Salma recently revealed she doesn't know when she will be able to stop. She said: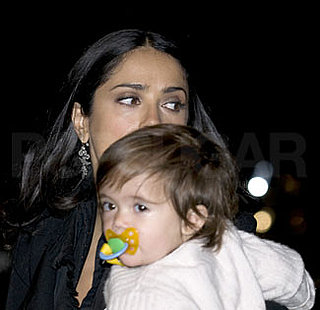 "I'm like an alcoholic. It's like, I don't care if I cry, I don't care if I'm fat, I'm just gonna do it for one more week, one more month, and then, when I see how much good it is doing her, I can't stop. Eet's a very powerful thing you know."
Salma's had a hard time keeping her girls safely under cover which might be part of the reason her baby daddy has a hard time keeping his hands off this sexy mama.