Samantha Power Facts
Get to Know UN Ambassador Nominee Samantha Power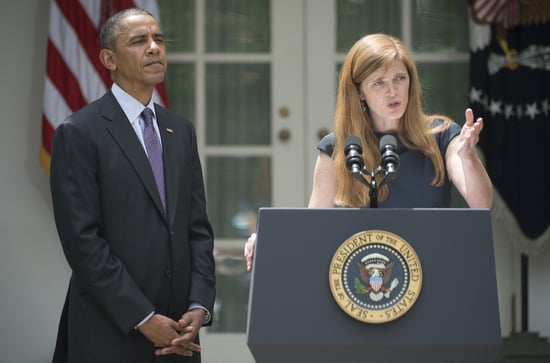 Yesterday President Obama nominated Samantha Power to replace Susan Rice as the next UN ambassador for the United States. As a leading human rights expert and former White House adviser, Power has been known to spark a bit of controversy — in 2008, she had to resign from Obama's campaign after she called Hillary Clinton a monster. This nomination marks a major opportunity for Power, as the position is currently considered a cabinet-level role, and in the past, it's been held by influential people like Madeleine Albright and George H.W. Bush. If the Senate approves Power's nomination, then she will be a key player in international affairs, so consider this your cheat sheet to learn more about the potential UN ambassador:
She has the credentials. After graduating from Yale University, Power attended Harvard Law School. She worked as a journalist for several years before founding the Carr Center For Human Rights Policy at Harvard's John F. Kennedy School of Government, where she also worked as a professor.
She took off time for her kids. In 2008, Power married Cass Sunstein, a former Obama administration official and Obama's former colleague at the University of Chicago Law School. They have two small children, and earlier this year, she left her position with the administration to spend some time with her kids.
She has a Pulitzer Prize to her name. Power's 2002 book, A Problem From Hell: America and the Age of Genocide, won the Pulitzer Prize, and she also wrote a book about Sérgio Vieira de Mello — Chasing the Flame: One Man's Fight to Save the World, which detailed his work for the UN.
She faced scrutiny over "anti-Israel" comments. Speaking at Berkeley in 2002, Power was asked how she'd handle the Israel-Palestine conflict. Some felt her response supported the use of US troops to impose peace, but she later clarified her ideas with Rabbi Shmuley Boteach in 2011, saying that if she'd really felt Israel was guilty of genocide, she'd have mentioned it somewhere in the 664 pages of her book about genocide.
She called Hillary Clinton a monster in 2008. During an interview with The Scotsman, Power said, "We f*cked up in Ohio. In Ohio, they are obsessed and Hillary is going to town on it, because she knows Ohio's the only place they can win. She is a monster, too — that is off the record — she is stooping to anything." Power was forced to resign over her comments, and she said she'd "go to [her] grave" regretting those words.
She has her critics.

Glenn

Beck dubbed her "the most dangerous woman in America," and Sean Hannity included her in a list of the 10 most dangerous people in the Obama administration.
She believes in LGBT equality. In 2012, Power was put in charge of Obama's Atrocities Prevention Board, which fights for all human rights, and at an event, she said, "Advancing the human rights of lesbian, gay, bisexual, and transgender people around the world is central to, not separate from, our comprehensive human rights agenda."