Sandra Bullock's Baby News Brings Joy to New Orleans
Sandra Bullock's Baby News Brings Joy to New Orleans
We're excited to post a portion of this story from People.com on Pop!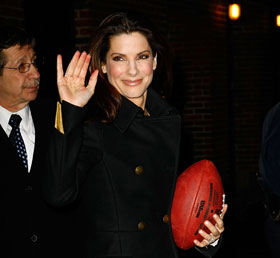 The city of New Orleans is still buzzing with the news that Sandra Bullock's new son Louis is from New Orleans – and the Oscar winner is getting a lot of love sent her way.
"Personally, I'm thrilled for Sandra on the adoption of her child," says Saints quarterback Drew Brees, who celebrated his Super Bowl MVP win on the David Letterman show with Bullock on Feb. 8. "Clearly she has embraced the city of New Orleans and appreciates what a wonderful and culturally rich city this is, and the fact that she has adopted a beautiful child with roots to our city makes it that much more special."
Check out the rest of what Drew had to say about Sandra's new addition over on People.com!