Sarah Jessica Parker I Don't Know How She Does It Interview
Sarah Jessica Parker Loves "an Interesting, Complicated Life"
Sarah Jessica Parker chatted about I Don't Know How She Does It at a recent press day in NYC along with her costar Greg Kinnear. The duo, who play a married couple in the film, have great chemistry, and they joked about how they each do it all — and even suggested a silly drinking game for movie-watchers! The I Don't Know How She Does It reviews aren't the best of either SJP or Greg's careers, but they both brought plenty of enthusiasm to our chat.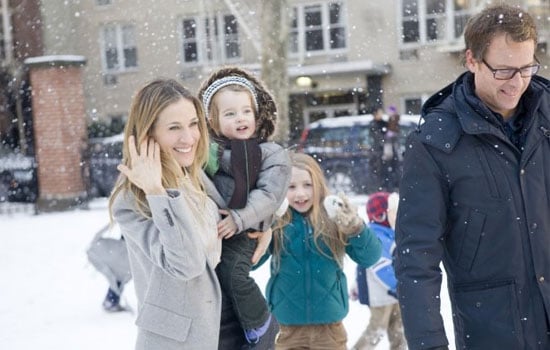 PopSugar: The film addresses the idea of having it all. How do you relate to that notion?
Sarah Jessica Parker: You know, this idea of wanting to be all things to all people, I'm very familiar with that desire. And trying to be very much a part of a marriage and a part of a parent-child relationship, and also to be very much invested in work, and what that really means and how is it really possible. I love that I was given the opportunity to tell that story in this movie.
Greg Kinnear: I had to lift a lot of children [in the movie], and suffered a lot of back pain because of that, and I can relate to that . . . Harvey Weinstein will find out in his legal department in the next couple of months. It's the same thing, it's just the story of trying to balance — a lot of balancing in this movie for everybody. You know you pick up on this story of two people having this great thing happen in their life and trying to make everything in-between work, it's not easy.
PS: Do you have a secret to making it all work?
SJP: I don't. I wish I had some kind of really reliable blueprint but I don't. I think the truth of the matter is things change every single day and you sort of have some master plan, but children change and people get sick and schedules change and babysitters can't be there; all the planning in the world doesn't really allow humans to behave as humans and, so no. You do the best you can. I like an interesting, complicated life, I prefer it to almost anything else, so I have no one to blame but myself. Greg, who do you have to blame?
GK: I have no one to blame but Sarah Jessica Parker.
To read the rest of our chat, just read more.
SJP: How much bacon did you eat in this movie?
GK: Oh yeah, I do a lot of eating. If you really watch the move, it'll be a drinking game years from now. You can watch me — I'm chewing constantly. It's a nonstop medley of —
SJP: Wait, why do we say years from now? Why don't we encourage those who are fans of PopSugar to go as often as possible over the course of a week and see who wins? Every time Greg eats they somehow document it, whether with alcohol if they're over the age of 21, or with candy for those who are 5 or 6 years old — also a wonderful movie for kindergartners! — I think that'd be a nice game.
GK: Talented actress, nifty marketer: Sarah Jessica Parker.
PS: Sarah Jessica, how do you stay stylish while being a busy working mom?
SJP: Well that's very nice of you, and you obviously don't see me five out of seven days a week. Like every other mother I know, you just simply try to get out of the door in the morning. During the school year there's no nod to anything other than practical, and getting out of the house without some bit of food or drool or god knows what else on you is virtually miraculous. So practicality is the dictator of what I wear these days.