Savannah Guthrie on Carson Daly Joining Today Show
New Today Show Host Carson Daly's Biggest Fan? That Would Be His Cohost!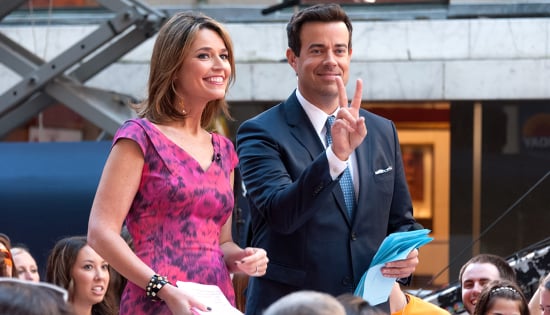 Carson Daly is the latest addition to Studio 1A at Rockefeller Center. Yesterday it was confirmed that Carson's joining Matt Lauer, Savannah Guthrie, Natalie Morales, and Al Roker as part of The Today Show crew, with his first show airing in just a few days, on Monday, Sept. 16.
Carson's most recent gigs have been hosting Last Call With Carson Daly and The Voice, both of which also air on NBC. But, of course, many in our generation know and will forever love Carson thanks to his turn on MTV's TRL in the '90s — in fact, we're looking back at the iconic show in our TRL time machine.
Savannah ranks among TRL's admirers. "Of course I was [a fan!]" Savannah said at last night's Estée Lauder Modern Muse event in NYC. "He's sort of my generation. Even though he's a little younger than me! So maybe I had aged out of TRL. But don't tell him that!"
At 41, Savannah's not much older than 40-year-old Carson, but NBC hopes to put his apparent youthful appeal to good use. He'll be the host of their new "Orange Room," planned to be Today's new social media hub. And it looks like Carson will get a big welcome from his cohosts Monday. Savannah added that Carson "feels familiar to us because he's been on the show a lot. He's filled in a lot. He just fits in."
The good words didn't end at that. Carson may bring some fresh air to the morning show, which has been plagued by bad press following Ann Curry's 2012 dismissal from the show. Savannah said of Carson, "He's one of those people that I knew of for all these years, but then when I got a chance to meet him, I was really impressed [with] his kindness, and his warmth, and his energy. He's also a normal human being, and sometimes you don't expect that from people you consider to be celebrities. And I just love him; I think he's going to fit right in."