Scarlett, Eva, and Jamie Have Spirit, Yes They Do
The Spirit whisked into LA last night for another red carpet premiere. Eva Mendes continued to look stunning in color while Scarlett stuck with neutrals, letting her hair do the talking. As usual, no Mr. Reynolds to go along with his Mrs., but even so they're some of our favorite newlyweds of the year. Earlier this week we got a peek at Scarlett and Samuel L. Jackson's rapport, and it looks like the red carpet was one more night of the Lucy and Ricky show. Jaime King looked all wrapped up like a present as all the beautiful women showed off their comic book movie due out Christmas Day.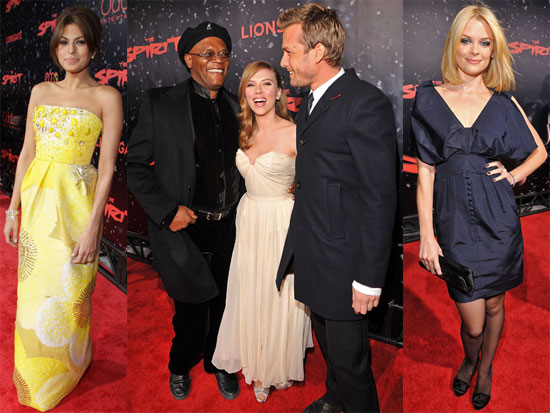 To see more from the premiere just read more.
Images include: Scarlett Johansson, Eva Mendes, Samuel L. Jackson, Jaime King, Gabriel Macht, Sarah Paulson