Scarlett Strikes Back at Us Weekly Cover
This week's Us Weekly makes some serious plastic surgery claims about some big Hollywood stars. Inside, real-life Dr. 90210s talk about how many actresses are going under the knife. Surgeon Raj Kanodia who worked on Jennifer Aniston, Cameron Diaz, and Ashlee Simpson (the first two saying it was for medical reasons) estimates that 60 percent of Hollywood women have done it. The story isn't sitting so well with the magazine's primary cover girl, however, and Scarlett Johansson is suing the magazine. Her rep issued this statement to OK!: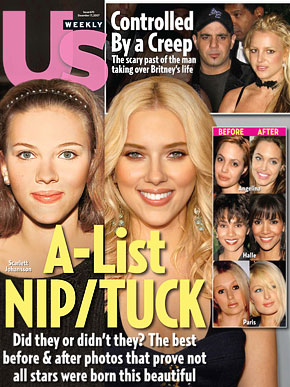 "US Weekly's cover story regarding Scarlett Johansson and its clear implication that she has had plastic or cosmetic surgery on her nose is an outrageous and defamatory fabrication lacking any conceivable basis or proof, despite vehement denials by Ms. Johansson prior to publication...Not surprisingly, US magazine cannot provide the dates when she supposedly had this surgery, who performed the surgery, or what was supposedly done — all because there simply is no truth to the story. The publication made a pathetic attempt to validate its story by using two cover photos of Scarlett that were taken years apart with obviously different make-up and lighting, and then relying on an "expert's opinion" (based solely on looking at the two photos) on what "might" have been done. It wasn't."
Scarlett herself even assured OK! that she's never been dishonest about her natural appearance. While I'm sure that so much of Hollywood has secretly (or not) gone under the knife, it's a pretty bold way to name names. Scarlett has never been the first name to come to mind when it comes to surgery and it's understandable that she's angry, but doth the lady protest too much? What do you think, has most of Hollywood had plastic surgery?