Scott Eastwood Talks About Working With Brad Pitt
Scott Eastwood Is More Than Just a Pretty Face and Great Abs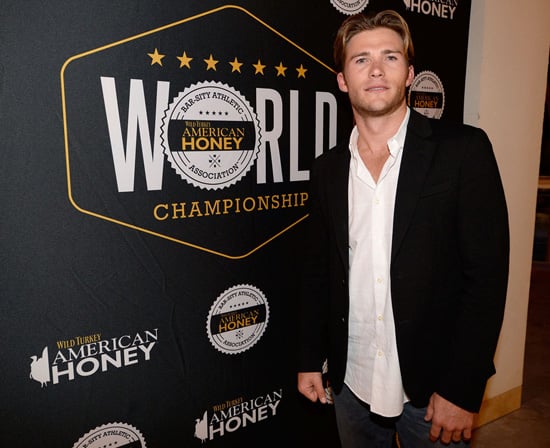 It's been two months since Scott Eastwood took the Internet by storm with a steamy Town & Country shoot, in which he channeled the All-American looks of his dad, Clint. Having a famous father may have helped Scott learn to take such adulation in stride. From Las Vegas, where he spent the weekend at an event with American Honey, Scott claimed to have barely noticed the hoopla. "To be honest," Scott said, "[I didn't notice] that much, because I was shooting a movie in London. I was out of the country working every day."
The movie in question is David Ayer's World War II film Fury, which also stars Brad Pitt and Shia LaBeouf. Scott admitted that being on set with such a roster is "pretty much a dream come true." As for Brad's skills at heading up a cast, Scott said, "Could I ask for anything more? He's Brad Pitt."
Scott's friendship with Brad actually predates the start of work on Fury. He explained that Brad's "been a friend of the family for a long time, him and Angelina. We're family friends." The Jolie-Pitts and the Eastwoods have crossed paths professionally before too, when Clint directed Angelina in the 2008 film Changeling. And because work on Fury in the UK coincided with the European release of Brad's The Counselor, Scott found himself on the the star-studded blue carpet at that film's London premiere.
But back to Las Vegas and Scott's weekend with Wild Turkey American Honey. It was a natural partnership for Scott. Before turning to acting full-time, he was a construction worker and bartender who lived a low-key life under the surname Reeves, which is his mother's last name. Scott had a whirlwind weekend in Vegas, where Wild Turkey put on the first-ever bar world championship. Scott felt right at home, admitting, "I've had a long history pouring and drinking Wild Turkey through the years. It's a badass American whiskey."
Beyond Scott's temporary return to the bar, he'll be back on the big screen in a number of upcoming films, including two with surfer themes: Dawn Patrol and The Perfect Wave. At the moment, Scott's looking for projects that unite "good directors and good scripts" but is leaving the door open to follow Dad's footsteps into directing. "I take one day at a time," Scott said. "It could come down the road. Sure, if I get the opportunity, that would be great."