Sean Penn was honored last night at the Christopher Reeve First Amendment Awards in NYC. When the outspoken actor took the stage to accept his award he took the opportunity to say we should impeach the president, but then that was interrupted by his cell phone that wouldn't stop ringing. He shocked the crowd including Heather Graham, Laurence Fishburne, Kerry Washington and others. Here's more: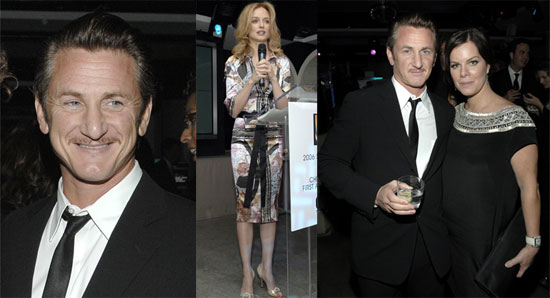 Penn spoke in measured tones but was actually quite inflammatory. The combination worked. He also threw a verbal grenade into the crowd when he said: "So look, if we attempt to impeach for lying about a [oral sex act], yet accept these almost certain abuses without challenge, we become a [human] stain on the flag we wave."

Penn's proclamation went beyond just staining the red, white and blue. He preceded that line with: "Let's put his administration under oath," he said. "And then if the crimes of treason, bribery or other high crimes and misdemeanors are proven, do as Article 2, Section 4 of the United States constitution provides, and remove the president, vice president, and … civil officers of the United States from office."
Branford Marsalis, Harvey Keitel and Marcia Gay Harden were also honored last night. More pics of Sean Penn, Marcia Gay Harden, Heather, Kerry, Laurence and more so read more