Sebastian Stan on Playing Bucky in Captain America
Sebastian Stan Shares About Cracking Up on the Captain America Set
Sebastian Stan might be best known for portraying Carter on Gossip Girl, but that could change with his role in Captain America. We talked to the actor, who plays Captain America's best friend and sidekick, Bucky, at a press day for the movie last weekend. Sebastian told us he initially auditioned for the lead role, which ended up going to Chris Evans, but said Bucky turned out to be the perfect fit. In the Marvel comics, Bucky eventually becomes Captain America, and Sebastian didn't rule out stepping into Chris's shoes in the future. He also talked about the fast friendship he and Chris struck up on the set and the stunts gone wrong that kept them cracking up behind the scenes. Here are highlights :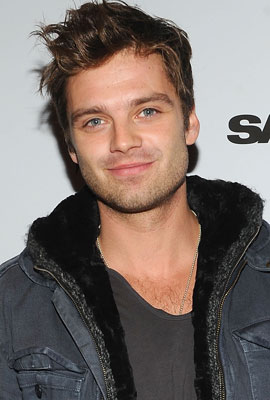 On how he reacted when they asked him to play Bucky: "[I said] yeah, let's work together. [laugh] I'm so glad this isn't over. I hadn't even looked up one thing about the character. At that point, I was just still very much in the whole Steve Rogers thing, and then when I heard I didn't get it, I just thought it was done. I hadn't read a script. They just sort of talked to me about it, and so all my instincts to it were really fresh."
On whether he ever gave Chris a hard time for nabbing the role: "Oh, no, no, no. I was very happy for him. I was like, 'You go ahead and get all buff. What are you having to eat? A piece of lemon? OK.' [Laughs] We really hit it off since the beginning. It was nice that we had some time before the movie shot to really get to know each other. And I've known him briefly here and there — just a small world in Los Angeles. I mean, the biggest challenge with him was that sometimes we'd just get on these laughing fits, and it'd be time to shoot, and I'd be like, 'All I'm really doing right now is trying not to laugh.' I thought all that went really well, fortunately, toward the parallel we have in the film."
For more of our interview with Sebastian just read more.
On whether Bucky will become Captain America in a future film: "Bucky could return when he's 55. It's absolutely possible. It could happen tomorrow, I don't know. The possibilities are endless and obviously that was part of the conversation when I signed up for it. That was another reason why I kind of was seeing the character a certain way and thought to lay some of the groundwork for what's possible to come in this version of the movie. I mean, there's so much that needs to happen information-wise in terms of Captain America dying and being replaced by him. There are so many things that would need to happen first, so it really is too early at this stage to be able to clearly say one significant thing . . . but it's possible."
On whether he enjoyed the action sequences: "Oh, [they were] super fun. The ones where we actually had stuff to work off of were a lot more fun than the CGI stuff. The CGI stuff was tough, because you just had to kind of always keep it in your mind and keep yourself at that energy level, but when you actually are running through things blowing up around you, you don't think about anything. It's like forget about being cool on camera. We had a couple of funny ones. There was one part where we jump on a wire, and Chris fell one time and dropped out of frame somewhere, and I didn't know where he went. There's that scene where we blast through the two doors, and at one point, we couldn't even get through them, and I was like, 'Oh, here's America's hope! We can't even break through a door.'"
On how he got fit for the film: "I always have a big bullsh*t radar, and I just know sometimes, you are just being a silly buffoon up there, [or I'm] not believing in myself. So in order to get over that, I was doing physical training on my own, just to increase my stamina level. So there was a lot of running and circuit-training work. Not so much about getting bigger, just being much more flexible and things like that. Obviously, there was some weapons training we were doing, and every time we were on set in between takes, you'd never let go of that weapon. That's the one thing they said. You know, just hold your weapon, play with it, take it out, put it back in, cock it, all that stuff. It just becomes a part of you and it feels a little more natural."