Seth Meyers Tweets About Halloween
The Funniest Celebrity Tweets of the Week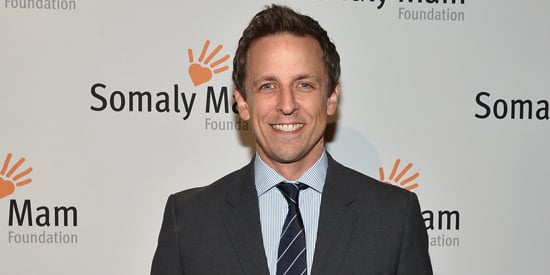 It's time to round up our favorite celebrity Twitter updates, and today, we're looking at Halloween from a not-so-glamorous perspective. Seth Meyers shared his favorite Halloween costume, which really sheds light on the whole vampire phenomenon, while Kelly Osbourne made a perfect pun, and we're not even sure if it was intended. This week's tweets also feature a different kind of Halloween horror, from Dane Cook's eyewitness account straight from a crazy party to Whitney Cummings's general musings about the state of humanity.
It's all here in our favorite tweets of the week!
Vampires have financial needs too, OK?
My favorite Halloween costume now and forever: Dracula at ATM

— Seth Meyers (@sethmeyers) November 1, 2013


The Great Pumpkin is such a skeeze, Linus. I can't believe he never called you!
The Great Pumpkin was just not that into you, Linus

— Julie Klausner (@julieklausner) November 1, 2013


Hey, I'm down to watch most things again as long as they're not Precious.
What if you had to watch The King's Speech again

— Chelsea Peretti (@ChelseaVPeretti) November 1, 2013


Way too soon, Kelly Osbourne! We're all still scarred by that opening scene!
Yes I'm going as Carrie however I have a feeling I might end up looking like a tampon!

— Kelly Osbourne (@KellyOsbourne) October 31, 2013


See the rest of our favorite tweets after the jump!
Ugh, razor blades have so much fat content, too.
Kids, watch out for razor blades in candy. They're just empty calories!

— Megan Amram (@meganamram) October 31, 2013


Weirdest Halloween hook-up ever.
I just saw drunk Snow White making out with the devil wearing a diaper. #EndOfDays

— Dane Cook (@DaneCook) November 1, 2013


The way I see it, there are a lot of other things besides Halloween that make me concerned about society.
I went out for Halloween and I'm super concerned about society

— Whitney Cummings (@WhitneyCummings) November 1, 2013


It's only a matter of time. The world can't avoid it forever.
When is there going to be a Triscuit eating contest? I've been training!

— Jim Gaffigan (@JimGaffigan) November 1, 2013


I just want you to be happy, OK?!
how DARE you let me eat this 2nd bowl of cereal

— mae margaret whitman (@maebirdwing) October 31, 2013


Pretty sure Peter Dinklage could save almost any movie.
Peter dinklage as Bane would've saved that movie.

— Damon Wayans Yunior? (@wayansjr) October 30, 2013


Never will there be a more appropriate situation for "BOOOOOOO."
Why do ghosts hate to go to prom? They have no body to dance with. #ClassicJokeWednesday

— Ellen DeGeneres (@TheEllenShow) October 30, 2013


Just try not to faint all over the place that like Keira Knightley girl.
Things seem disproportionately funny when I'm in a corset too long #MyBrainNeedsMoreOxygen

— Anna Kendrick (@AnnaKendrick47) October 30, 2013


It totally would be the most logical time to talk to you, right?
i may be crazy but that doesn't mean God can't talk to me in the shower.

— Jenny Wade (@jenny_wade) October 29, 2013