Seth Rogen Talking About Justin Bieber
Seth Rogen Hates Justin Bieber, and This Is a Fact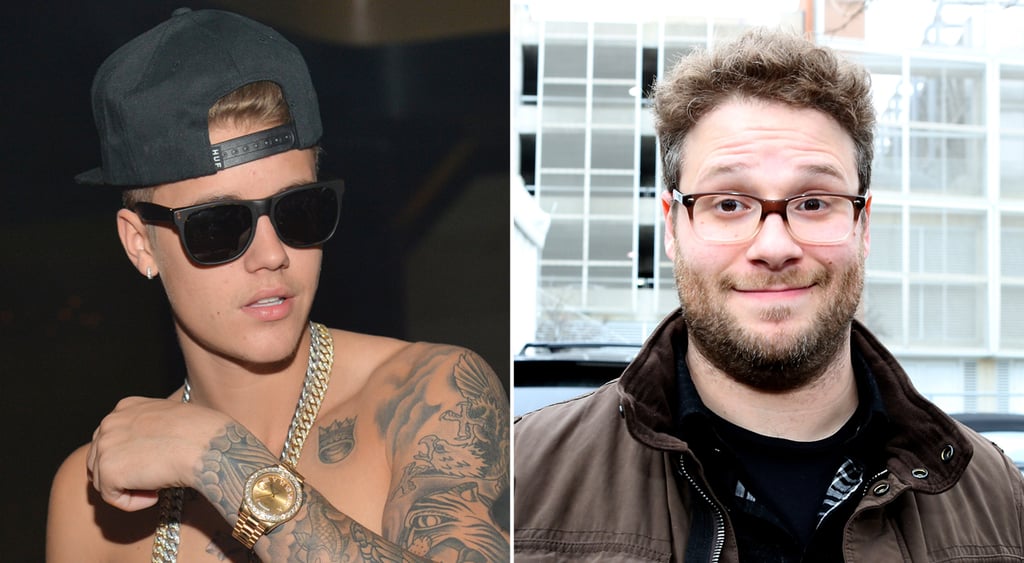 It's no secret that Justin Bieber has been, shall we say, acting out a bit these days, and though most of his celebrity peers have kept their opinions to themselves, Seth Rogen has had no problem sharing his feelings on the pop star's recent pitfalls. Seth first spoke out about Justin after the singer was arrested for DUI and drag racing in January, but Seth has continued to give headline-making statements since then; most recently, while promoting his new movie Neighbors, he called Justin "a bit of a d*ck." We can safely say that Justin Bieber does not have a fan in Seth Rogen, and we've rounded up all of the actor's revealing quotes to prove it:
Exhibit A
After Justin was arrested for DUI and drag racing in Miami back in January, Seth tweeted, "All jokes aside, Justin Bieber is a piece of sh*t."
Exhibit B
In March, Seth made an appearance on Watch What Happens Live and let host Andy Cohen know that his previous comment was in no way taken out of context, saying, "In my opinion, Justin Bieber is a piece of sh*t," adding, "He seems like he's obnoxious and ungrateful, insincere, and he puts people's lives at danger, and overall, he acts like a piece of sh*t."
Exhibit C
Just in case Seth hadn't made his point clear, he reiterated his feelings on Justin in an interview with Howard Stern in early May. While promoting his movie Neighbors, Seth told the radio host, "I've met [Justin] a few times. He's a good example of someone who you meet who you think you are going to hate and then you get to hate him as much as you [thought]." Seth went on: "You meet him, and he lives up to every one of your expectations of how you hope he'll be."
Seth explained that he first met Justin backstage at a German talk show and that the pop star specifically requested a meeting with him. According to him, once the two were introduced, Justin made it seem like Seth was the one who asked for the introduction. He revealed his thoughts about the situation, saying, "What the f*ck — I don't want to meet you! I was totally cool with not meeting you," adding, "He's a little bit of a motherf*cker. He's a bit of a d*ck."
Exhibit D
In the same Howard Stern sit-down, Seth talked about seeing Justin again at the MTV VMAs in 2011, saying, "He literally had a snake wrapped around his f*cking wrist that he was wearing, like a live snake as an accoutrement. I was like 'What the f*ck?' I talked to him for like five minutes. I just remember thinking, 'F*ck this kid. He's a piece of sh*t.'"
Exhibit E
Seth stopped by The Daily Show with Jon Stewart days later to talk up his latest comedy and when the topic of Justin Bieber came up, Jon said that his daughters love Selena Gomez for her former Disney show Wizards of Waverly Place. He added that he has no idea how to tell his little girls that Selena "hangs out with an awful guy." Jon then asked Seth about his own kids — Seth doesn't have any — but he did joke about his dog, saying that he "doesn't need to know" about Justin. He quipped, "He can smell it. If there's one thing a dog can smell, it's an assh*le."
Verdict
No, Seth Rogen will not be listening to "Baby" on repeat anytime soon. And after Seth made his statements on The Daily Show, Justin tweeted a response, saying, "Seth Rogan sorry I didnt bow down when I asked 2 meet u was probably a bit shy and didn't want to be over the top but still. love ur movies." Your move, Rogen.