Shailene Woodley Calls George Clooney "Superhuman"
Shailene Woodley on Winning a Spirit Award and "Superhuman" George Clooney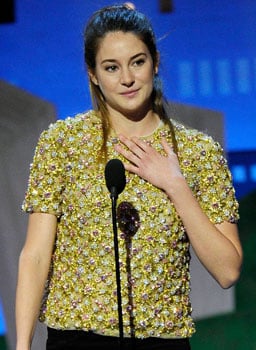 Shailene Woodley may have been snubbed by the Oscars, but she was a big winner at the Spirit Awards for best supporting actress. After accepting her award, Woodley headed to the press room where talked about how she grew up on the set of The Descendants, thanks in large part to costar George Clooney, whom she called a "dynamite human being."
On how the film changed her: I'm so grateful. I don't know if surprised is the right word, it's been such a beautiful experience in my life. It transformed me as a human being. Every person in the film had such gentle, kind souls. And being on the set as an 18-year-old, it was a catalyst for coming into my own.
On working with George Clooney: George Clooney, he was the head of all the happiness. Him and Alexander Payne. They both just embody such graciousness toward human beings. George is so incredibly philanthropic, and he taught me so much about helping others. He's such a dynamite human being. He's superhuman.
On how the cast of The Secret Life of the American Teenager has responded to her success: Everyone at Secret Life is super stoked for me, just as I'm stoked for them. We've all been given the opportunity to go out and do other things apart from the show.
On how her life has changed: My life has changed only in one way, and that is that I need to do laundry. I haven't had time to do laundry in a few months but after tomorrow there will be lots of time to do that!
On what she'd like to do next: I would love to do something dark, and small. I love independent films. I love emotional scenes. I love people who are struggling with something. I think it's the perfect juxtaposition to my happy, positive, demeanor.