Shia LaBeouf Gets More Recognition for His Big Year
Start Slideshow
ADVERTISEMENT ()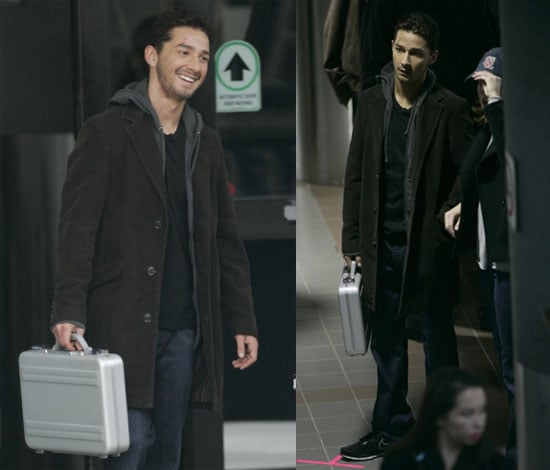 0
Shia LaBeouf Gets More Recognition for His Big Year
Shia was looking a little beat up on the set of Eagle Eye in LA yesterday. As 2007 comes to an end, we're realizing how far this young actor has come — in January he was best known for Even Stevens and before we knew it he was starring in the surprise hit, Disturbia, and then one of the biggest summer blockbusters, Transformers. Of course, we aren't the only ones to take notice, he was even on EW's Top 25 Entertainers of the Year as one of the prodigies. In the magazine he said:
The best part about being so successful at such a young age is: "I get to meet my heroes. To be in that Indiana Jones clique is insane. These are my superheroes. These are my Batmans, my Robins. And I get to eat lunch with them."
The biggest challenge: "All of a sudden, everyone wants to be your pal. I think the hardest thing is deciphering reality from the success, and knowing when to shut down the success of your occupation to be able to enjoy the mundane, everyday life s***. And you get tired of talking about the same things. I'm tired of talking about myself."
Favorite career moment of the year: "I think my favorite moment was when Harrison flew in and jumped out of his helicopter to come to rehearsal with his whip in his hand. He wasn't in Indiana Jones gear. It was just Harrison Ford with his whip, walking to rehearsal."
Back in April, you all voted him as the biggest star of tomorrow, and it looks like it's already coming through. I especially love how humble he still is about landing his dream part alongside Harrison Ford in Indiana Jones. We can't wait to see if he can keep up his hot streak and stay out of trouble in 2008 speaking of which, he is due in court today.
More of Shia on the set of Eagle Eye so just