Shirtless Kellan Lutz Pictures Without Shoes in LA
Kellan Lutz Goes No Shirt, No Shoes, No Problem!
Kellan Lutz gave quite the abs show as he stepped out to grab something from his car in LA yesterday. This Twilight eye-candy manjoyment is a great way to celebrate the ending of a successful bikini and swimsuit season. He was once again our Shirtless Bracket runner-up taking second place to Robert Pattinson in 2009 and Taylor Lautner this year, but Mr. Lutz still has a perfectly winning six-pack. Kellan says he's gearing up to travel the world before starting work on Breaking Dawn this Fall and earlier this week he was in Washington DC helping build houses for charity. On the Emmy red carpet, Melissa Rosenberg revealed she has big plans for the two-part saga finale, but until the whole cast returns to set we'll enjoy this lovely view.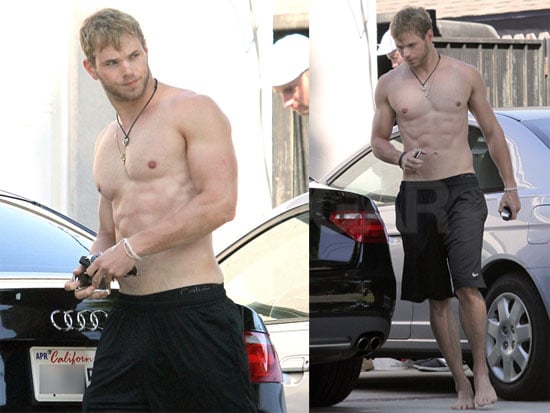 To see more photos of shirtless Kellan, just read more.