Shirtless Photos and Quotes Of John Mayer in Rolling Stone 2010-01-20 06:00:00
Shirtless John Mayer Brings Us Into His Head, Bedroom For RS
John Mayer's shirtless cover of Rolling Stone gives a pretty good idea of just how stripped down he was ready to get in the interview. John himself seemed to stress a bit about it when he read the whole thing, but ultimately doesn't fault himself for telling the truth. He talks about everything from Jennifer Aniston to masturbation to just what he's looking for in a mate. You never know what to expect from Mayer next — here are highlights: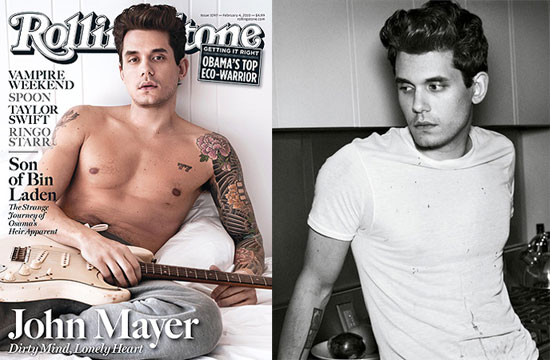 On his split from Aniston: "I've never really gotten over it. It was one of the worst times of my life… I have this weird feeling, a pride thing, for the people I've had relationships with. What would I be saying to Jen, who I think is f—ing fantastic, if I said to her, "I don't dislike you. In fact, I like you extremely well. But I have to back out of this because it doesn't arc over the horizon. This is not where I see myself for the rest of my life, this is not my ideal destiny.'"
On his current sex life and masturbating daily: "Blowing me off is the new sucking me off! . . . I am the new generation of masturbator. I've seen it all. Before I make coffee, I've seen more butt holes than a proctologist does in a week. . . I don't like that question [about masturbating daily], because it seeks to make me sound strange if I say 'Yes, but of course I do.' I mean, I have masturbated myself out of serious problems in my life. The phone doesn't pick up because I'm masturbating. And I have excused myself at the oddest times so as to not make mistakes. If Tiger Woods only knew when to jerk off. It has a true market value, like gold bullion. First of all, I don't jerk off because I'm horny. I'm sort of half-chick. It's like District 9. I can fire alien weapons. I can insert a tampon. No, I do it because I want to take a brain bath. It's like a hot whirlpool for my brain, in a brain space that is 100 percent agreeable with itself."
On what he is looking for: "Do you think it's going to take meeting someone who I admire more than I admire myself? But isn't it also about a beautiful vagina? Aren't we talking about a matrix of a couple of different things here? Like, you need to have them be able to go toe-to-toe with you intellectually. But don't they also have to have a vagina you could pitch a tent on and just camp out on for, like, a weekend? Doesn't that have to be there, too? The Joshua Tree of vaginas? …I'll be happy when I close out this life-partner thing. Think of how much mental capacity I'm using to meet the right person so I can stop giving a f–k about it."
To read what he has to say about his music, fame and more just
.
On his latest album: "I know that I'm supposed to say that my newest is the best one. Bulls—. Continuum is my best one. And I think you gain more than you lose by saying that."
On fame: "I'll be honest with you. All this weird s--- about me? All this strangeness? I wouldn't have a music career without it. But I am at odds with myself. I have some presence of psychological damage from the past 36 months. I have not had a woman appear in my dreams sexually without a paparazzi in the dream too ... I don't know how much further I can do this before I'm a dead body on the side of the road."
On an ex getting back in touch: "It was a beautiful e-mail about what it's like to hear me on the radio. She said she smiled. I started crying as I wrote her back. This woman is precious. She can vouch for me not as a celebrity. She carries with her information of this 14-year-old boy she knew. She knows the truth. She hadn't written me in a long time. I think she was trying to forget me because she has a husband and kids."